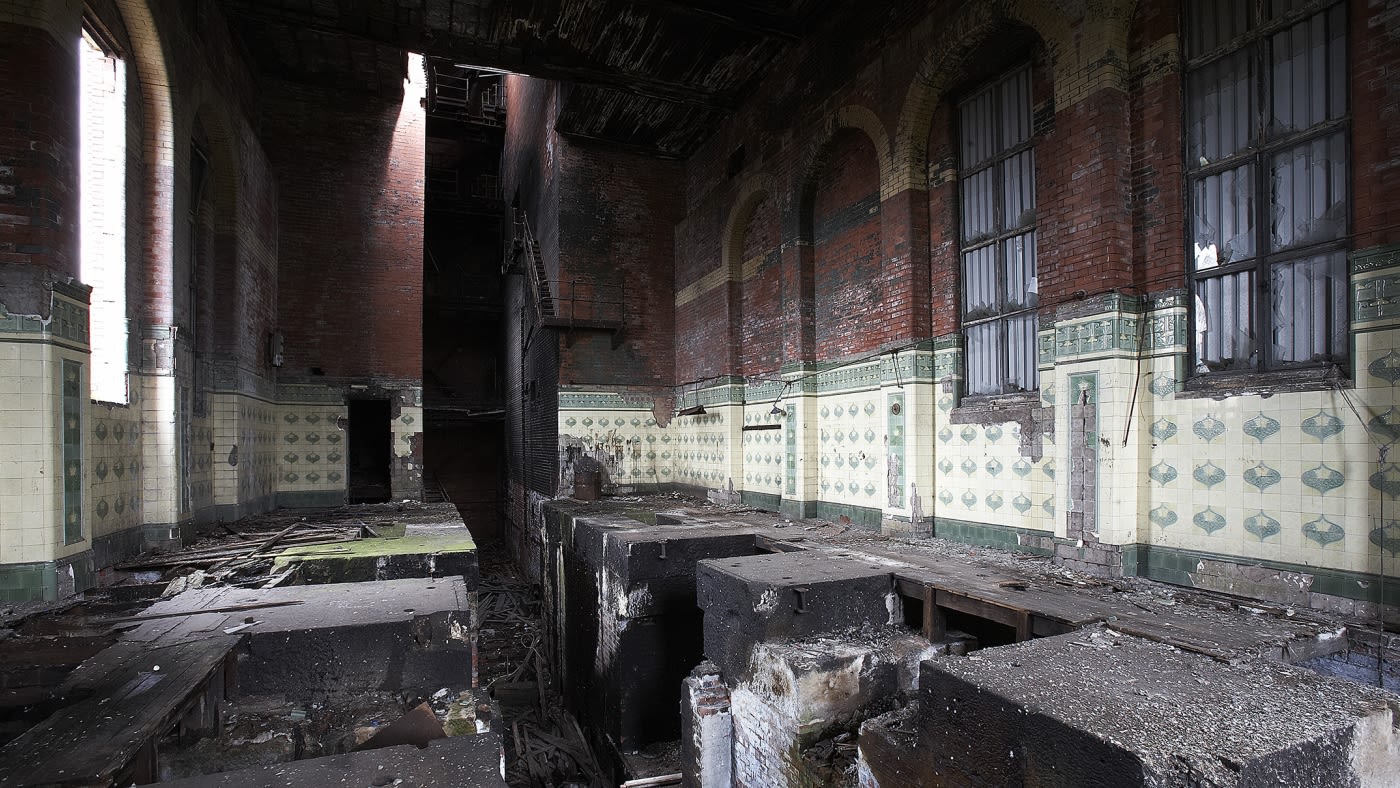 Darren Holden - documentary photographer
Photography credit: Darren Holden
The haunting and atmospheric imagery of long forgotten buildings in Darren Holden's book 'Pretty Vacant' is a journey through the lost communities and industries of the UK and beyond. In part one of our interview, we talk about how his lifelong obsession with documenting Europe's crumbling industrial heritage came about.
You can read part two of our interview on location in Manchester with Darren Holden here.
skinflint: Which came first, your love of photography or exploring abandoned spaces?
Darren: I often get asked this and photography is my first love. Exploring comes second. I grew up in a typical British mill town called Reddish in Stockport, part of Greater Manchester in North West England. As a curious child, my friends and I would frequently explore the old derelict buildings and abandoned textile mills that were all around us. As I grew older I still loved the buildings. Remembering the excitement of climbing into an old clock tower of a local mill stuck with me - I can still recall the smell and how erie it was decades later.
About the same time - aged 11 years - my grandmother gave me my first camera - a 100 35mm film camera. Sadly I didn't use it to document my childhood exploring although I wish I had! I did a few school projects on a derelict factory and while I wouldn't have called it 'urban exploring' I guess it was. By 2002 Manchester was full of old mills and most of my weekends we were spent in the mills taking pictures, although sadly all on lost film. It was just myself and a friend, shooting what we loved.
What is it about exploring these abandoned sites that you find so compelling?
For some people it's shooting landscapes or street photography. For me it's derelict buildings that draw me in. I'm not too sure exactly why that is. I have always loved architecture and industry, so throw in photography and you have a recipe for exploring. Most sites have a history attached, so when they're rotting away you feel you're doing something worthwhile by trying to document them.




You've visited some incredible abandoned spaces around the world - which is your favourite and why?
This is almost impossible to answer as each site has its own charm with great photo opportunities. Some explorers love old lunatic asylums, for others it's power stations. With me I get the same buzz from a power station to a large empty factory - it's just about creating great images. Over the years I have been lucky to see some amazing places in the UK, Europe and as far away as China - where I recently had the opportunity to shoot the country's largest steel works in Beijing. It once employed more than 200,000 people and had remained derelict since the Beijing games. To gain admission my girlfriend, who is Chinese, spoke to a member of staff and explained I was a photographer from the UK looking for locations for a car shoot and they let us on site. Without her help it would have been impossible to see the site..
If I had to pick a UK site it would be Pyestock, the iconic home of British engineering where they once tested Concorde engines - a site now sadly gone, but without doubt a mecca for explorers. A not-so-obvious site would be some of the textile mills here in the North West. These hold real deep feeling for me and documenting them is a privilege knowing the history behind the whole textile industry.
Do you feel a sense of sadness about what many of these buildings represent?
I guess all explorers want to document lost industries and communities. In recent years we've all witnessed the loss of coal, steel and many other industries across the UK. The closures haven't affected me directly - rather they've given me the opportunity to capture what once was, but I would like to think others are interested in what we do - especially those that once worked in these industries. What is sad to see is some of these buildings in such a state of disrepair considering what they once brought to their local communities and industries. It's always good to see a building regenerated rather than knocked down, and living in the North West it's always good to see the old mills saved and get a new lease of life.
Tell us about the favourite image you've captured during your travels…
If I had to choose one it would be the control room at Pyestock. The image is a lone desk surrounded by control panels. The combination of colours and tones and the fact that this one desk and lone chair really brings home why I do what I do. It's such a simple shot but I just love the composition and light.
What else inspires you and your photography?
My main inspiration is a love of architecture, industry and historical buildings. Many years ago I was given a book called 'Zones of Exclusion' by photographer Robert Polidori which documents the areas of Chernobyl and Pripyat - when I saw it it blew my mind and I knew this is what I needed to shoot. In my own way I have tried to achieve this.
What's next?
As a photographer and explorer you are always looking for the next thing to shoot. In an ideal world I would love to travel around Japan shooting sites, especially 'Battleship Island', a derelict coal mining island. Closer to home I have spent the best part of 10 years documenting the textile industry across the North West and will continue doing this for as long as possible, the mills are to me very personal and without doubt my favourite thing to photograph.
You can read part two of our interview on location in Manchester with Darren Holden here.