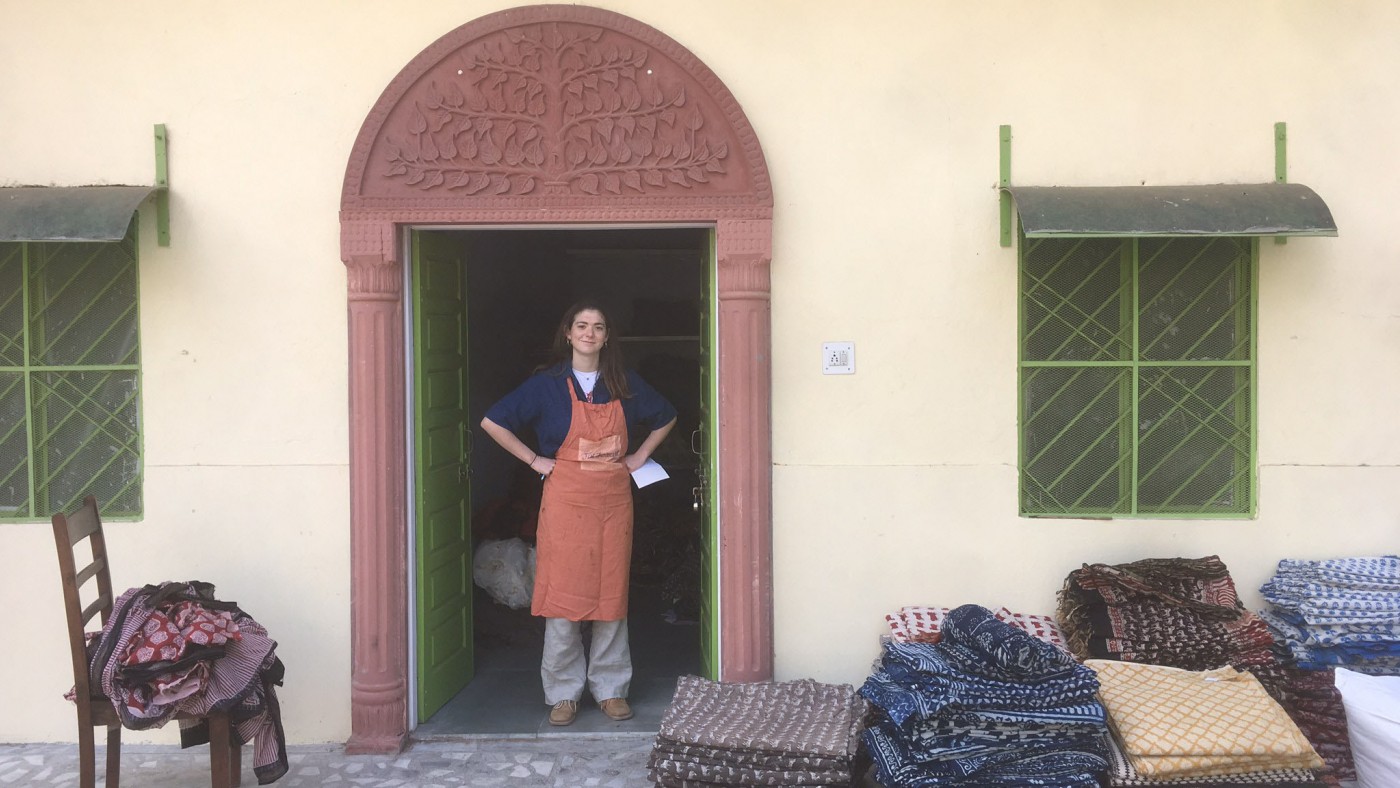 skinflint meets: Bella Dunne, Yesterday Today
Emerging and established designers alike are looking at creative ways to integrate the concepts of the circular economy into their business practices. As part of our skinflint Meets and #circulareconomy series, we talk to upcoming Elle Decoration featured designer Bella Dunne of Yesterday Today about breathing new life into vintage fabrics, and what it means to repair, mend and restore.
skinflint: Tell us how Yesterday Today came about…
Bella: Yesterday Today emerged whilst studying fashion textile print design at The London College of Fashion. I began learning about the damaging impact fast fashion and interior brands had on the environment, as well as the unethical treatment of workers in this sector. I couldn't get the thought of constant mass-producing out of my head. So, in my final year I promised myself that I would no longer buy new fabrics and got obsessed with sourcing vintage fabrics instead, dyeing and screen printing on top of them. I also started designing for interiors as well as fashion. Yesterday Today, became an extension of this process. Today, without access to the print studioI had at university, my process has turned more towards transforming vintage fabrics by dying, sewing and mending them into anything from clothing to cushions. I also source a lot of unique homeware pieces from various decades, such as vases, that complement the textile pieces. Alongside running Yesterday Today, I work freelance, assisting styling within the interior + set design industry.
There is a lot of complication and effort involved in sourcing and restoring objects. Why bother?
Seeing beautiful embroideries and fabrics at antique markets not being used always made me feel sad. I have always appreciated the craftsmanship and time that has gone into creating these pieces, so giving them a new lease of life brings me great pleasure. Additionally, the process I follow, constantly sourcing different fabrics, ceramics, etc, brings variety to every restoring job - I thrive off change and the education you receive by working with a variety of different fabric fibers day-to-day. I also enjoy the challenge of making something desirable again, reinterpreting an item that some may just see as 'old' and 'outdated'. Sometimes this can simply be achieved through styling, helping to spark people's imagination of how they could see the item in their home.
What does it mean to repair, mend or restore? And what does it feel like?
For me, repairing, mending, restoring, can be anything from over-dyeing a fabric to freshen its colour and get rid of tiny marks, to adding patches and reinforcement to a fabric where areas may have formed a hole. The feeling of satisfaction you get when a restoration job has been completed is lovely, it's very gratifying to mend something that may have been discarded by someone else.
Why are the stories behind the objects we own or repair so important?
If I can find the information, it's important to respect the country and maker who originally created the item by crediting its origin. I really enjoy learning about different cultures and traditions through the pieces I salvage. For instance, I sourced a collection of vintage Ukrainian embroideries, some were tablecloths, others just loose pieces of fabric adorned with hand stitching. I learned that the floral embroidery designs were mostly derived from Southern & Eastern Ukraine - flowers, branches, and leaves reflecting the purity and prosperity of the family. Whilst the more geometric designs were mostly derived from Western Ukraine and were related to the beauty of Ukrainian nature, some of the symbols were intertwined with Slavic mythology.
What top tips have you learnt about interior styling from working in the industry that we can apply to our own interiors and homes.
1. Textures and the layering of different fabrics can really help bring a room to life (if styling for magazine imagery, the image doesn't feel so flat.) 2. If laying a table, using non-matching plates and serving ware forms a much more interesting composition due to the variety of the shapes, your eye isn't stuck in one place.
We recently launched Full Circle, our buy-back scheme designed to keep our vintage lights out of landfill and in use forever. In what ways are you working to become an even more sustainable business, and individual?
I accumulate a lot of small scraps of fabric leftover from reworking projects, usually too small to make anything large from, but I couldn't fathom throwing them away. The scraps get incorporated into everything I make, as ribbon for wrapping order parcels, as ties for product labels, and in the next coming week I am releasing Christmas cards which are decorated with scrap vintage embroidered fabric. A project for the new year, also involves using these tiny scraps as stuffing for pillows to prolong their life even more.
Finally please pick your favourite skinflint light from the current collection and tell us why/what effect they have on the space…
My favourite skinflint lights from the current collection are the vintage cargo ship wall lights. The history of the lights is very intriguing being salvaged from decommissioned US cargo ships in India - they make a great conversation starter. I love how the glass is enclosed within the bronze caging and I imagine the light shining through and forming interesting patterns on the surrounding walls.