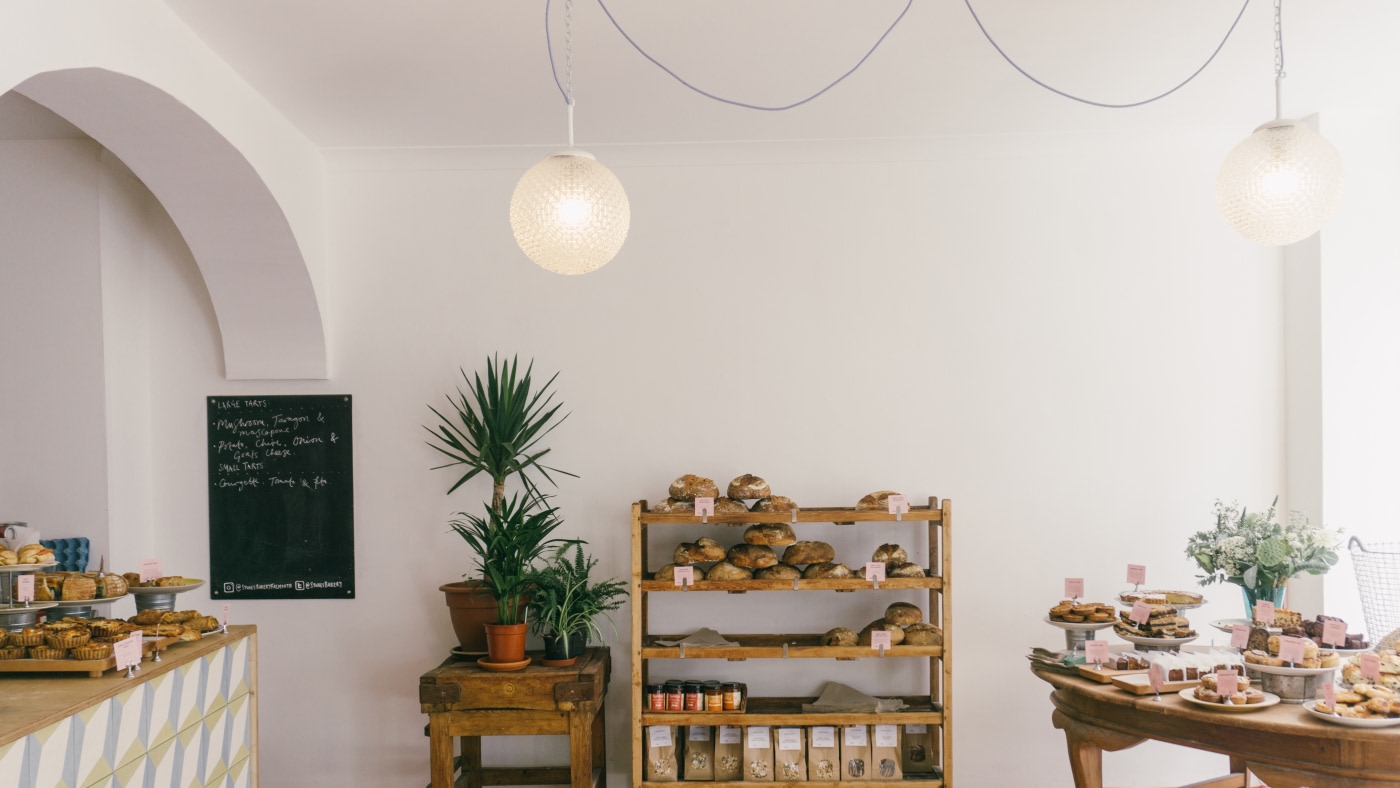 We're extremely lucky to have worked on many interesting large-scale projects over the years, but all of us at skinflint get just as excited about our smaller, up-and-coming independent clients. Seeing our restored vintage lights suspended above our heads at our favourite local businesses still feels very special.
Stones Bakery in Falmouth is one such business - one of many independent retailers helping to lead a resurgence of the Old High Street in Falmouth. Purveyor of artisan bread and cakes all handmade on the premises, Stones inhabits a former Italian trattoria and makes use of the original terracotta floor tiles and ceiling fans. Retro Czechoslovakian glass pendants by us at skinflint are also suspended above balancing the industrial yet warm aesthetic.
Founders Rosie and Ol Kingdon took a break between bakes to tell us more:
skinflint: Tell us about Stones Bakery. How did it come about?
Rosie: After university we both had various office based jobs but decided we wanted to work for ourselves doing something practical. We have a shared love of good food, and after Ol found a job as a miller at a traditional windmill we became increasingly interested in baking. We started Stones Bakery after moving to Cornwall in 2007, first as a market stall then a shop and now a shop and cafe.
Raising a young family and running a bakery must involve very little sleep. What keeps you going?
Juggling the bakery with family life certainly has its challenges! We really value doing something the kids can be involved in; they're a regular fixture at the bakery and have been since they were born. It has been a lot of hard work over the last ten years but we have had such positive feedback that I think that's what keeps us going. That and lots of doughnuts.
What advice would you give to someone looking to start their own business?
Focus on the type of business you want to run and what you can do well rather than second guessing what you think other people want. Customers want to buy things that are great and being sold by people who care; pretty much any marketplace is already crowded with mediocre options so you need to offer something that's better than that.
Reducing waste is an important issue to you. What steps can businesses and consumers take to do the same?
Start with the easy wins so at home that might be reusable cups and bottles for using out and about whilst in a retail environment using paper instead of plastic bags is a simple one. The biggest impact for us has been composting at home and finding a waste service who take food scraps separately at the bakery.
There is a wealth of creativity in Falmouth and Penryn at the moment, particularly along the Old High Street. Do you collaborate with any other local designs or suppliers?
The Old High Street is really vibrant at the moment and we are loving being a part of that. We supply bread to our neighbours at The Ope and The Star and Garter, and Sohn Kitchen is using the space at the bakery on a Sunday for a weekly Korean noodle pop up.
Describe the Stones Bakery interior in three words.
Bright, functional, calm.
What was the vision for the interior and what was the design process?
Our design process has always been more about what we like than trying to achieve a particular look. There is a children's book called 'Snip, Snap' which has lots of plants against brightly coloured walls which was the inspiration for our pink wall. The space was formally an Italian restaurant and we kept the terracotta tiles on the floor and the ceiling fan; we quite liked incorporating in some elements of the bakery's previous life. We aimed to keep much of the interior fairly simple to allow certain elements, the tile counters, the lights, the pink wall, to stand out.
Apart from the lights, what is your favourite element of the interior?
Ol made some freestanding counters on castors with some beautiful tiles on the front. I really love those (this is Rosie's opinion, Ol would be too embarrassed to say that!)
Why did you select these particular lights and what effect do they have on the space?
We chose the lights just because we really love them. Again it goes back to being led by our personal tastes rather than necessarily aiming for a particular style. The lights are simple but beautiful and make a statement without being ostentatious.
Stones Bakery,
28a High Street, Falmouth,
Cornwall TR11 2AD

www.stonesbakery.co.uk

Normal opening hours:
Monday to Saturday 0830 - 1630