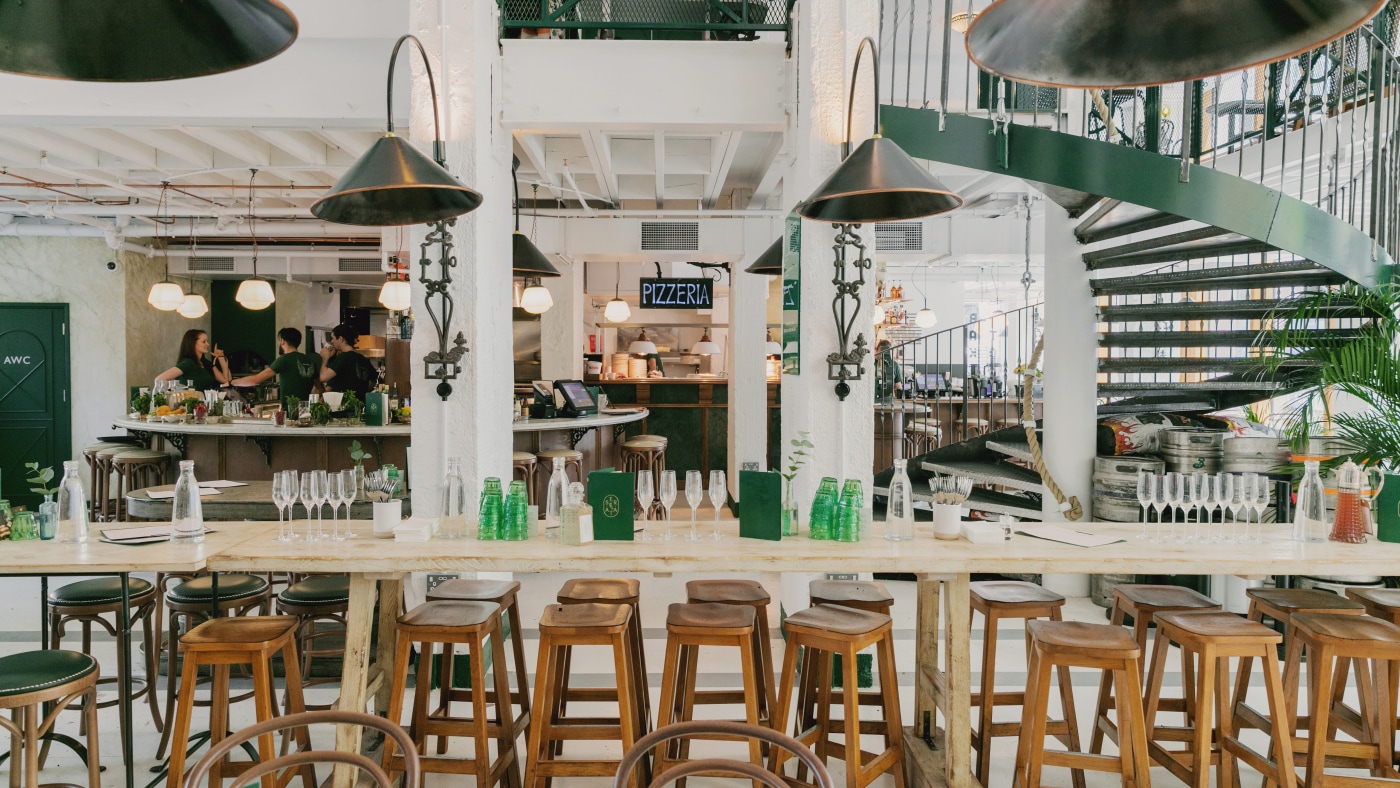 Serata Hall restaurant lighting
Photography credit: Mariell Lind Hansen
Following Cattivo and Canova Hall in Brixton, and Martello Hall in London Fields, London based architects Red Deer have completed the interior design of Serata Hall; the fourth all-day dining, cocktail bar and workspace hybrid from the Albion & East Group. The interior features a run of vintage Czech opaline glass pendants above the bar and counter, as well as Hungarian oxidised factory pendants above the kitchen pass area, salvaged and restored by us here at skinflint.
Located on Old Street within The Bower, the vast 297,000m2 development, Serata Hall, like its predecessors is aimed at the Millennial working generation. Boasting a bakery, coal oven, tap wine and gin distillery, Serata Hall is more than a unique all-day café. It's also an Italian inspired restaurant, cocktail bar, hot desk and event space set across a ground floor, upper-level lounge and outside terrace.
Inside the two-story space with lofty double height floor to ceiling glass windows, Red Deer has devised the design concept in homage to Victorian greenhouses. The open-plan interior is rich with Art Deco detailing whilst remaining strikingly contemporary thanks to a fresh colour palette and planting.
Throughout the space is a mix of bespoke and reclaimed materials, all of which are key to the design. These include specially aged white plaster columns, rich timber window frames, wrought iron panelling, reclaimed old Victorian balustrades and original vintage lighting.
In keeping with the Art Deco vibe, skinflint's Czech tiered opaline pendant lights are suspended above the bar and coffee shop counter area providing soft illumination for the counter below. Meanwhile, a trio of skinflint's white enamelled and oxidised factory shades salvaged from Hungary are suspended above the kitchen pass.