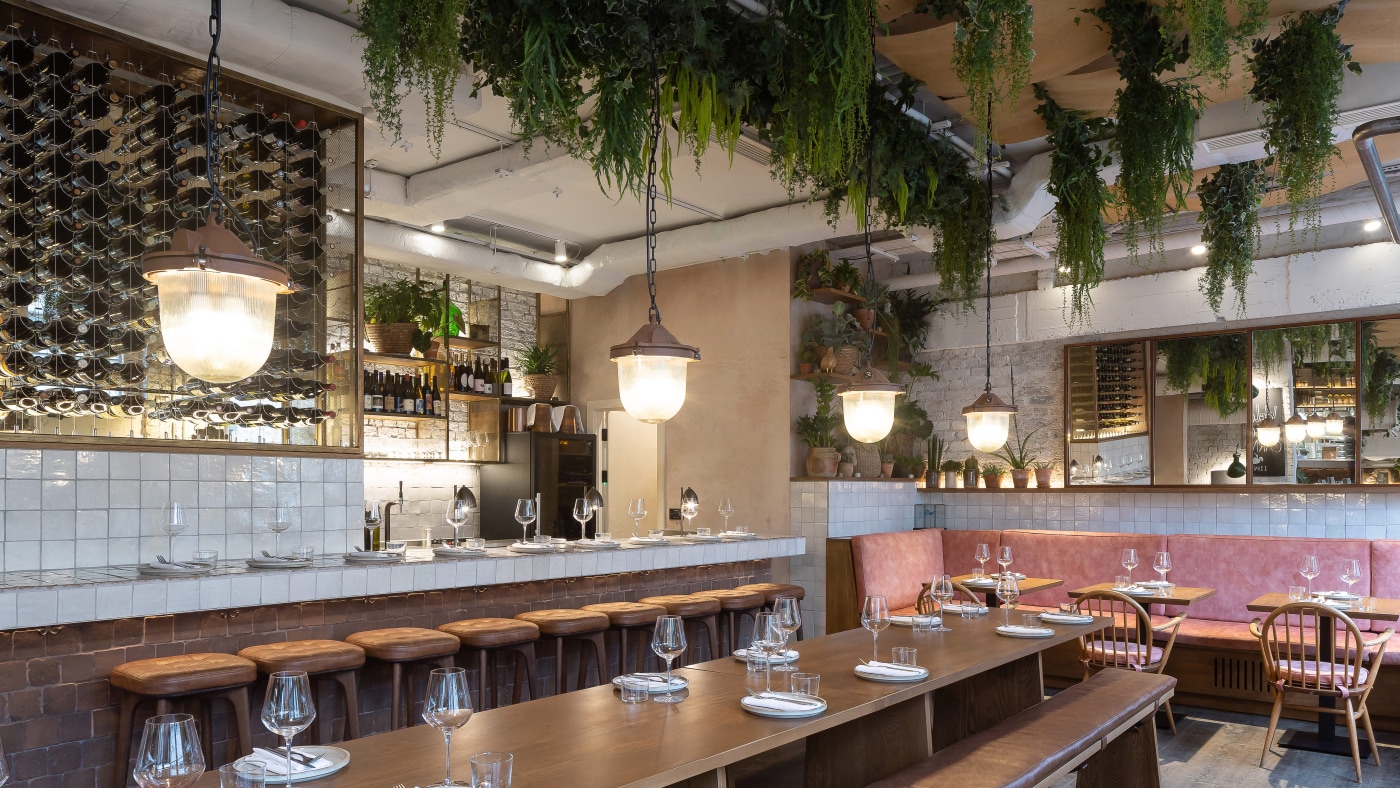 Industrial restaurant lighting in Carmel
Embracing the untamed nature of live-fire cooking, the team behind Berber & Q opened their third eatery, Carmel, in November 2021. Tucked away in an old industrial warehouse in London's Queen's Park, Carmel offers a sophisticated yet casual dining experience inspired by Eastern Mediterranean cuisine.
Carmel's 19th century building has been thoughtfully restored from the top down, from school science lab table tops made from Iroko wood, to a range of skinflint's salvaged vintage lighting. For the design team at MATA Architects, these reclaimed elements are their "small contribution to the circular economy", resulting in an interior that is in keeping with the authentically aged aesthetic of the original structure.
Offering customers a diverse range of ways to dine, Carmel was crafted around the need to adapt. A row of Oxidised Eastern Bloc pendant lights carefully restored by our workshop team, draw the eye down to the communal dining table that stretches through most of the main dining area of the restaurant, making for an impressive feature piece.
Integrating the outdoor and indoor spaces of Carmel was also imperative in the design. The untamed greenery adorning the ceilings and walls serves as an appealing contrast to the dominant warm tones. Matching these greens sit our Angled REVO wall lights - with a striking industrial green finish - providing clean lines that complement the rugged foliage elsewhere in space.
Bringing the outside in hasn't been reserved solely for the main dining areas. Venturing into the bathroom, the small rooms have been transformed into elegant and bright spaces. The sunburst pattern cast by the moulded glass of our Retro Czech wall lights (golden v2) onto the raw plaster walls, paired with the elegant backlit mirror, is a bold combination that evokes the light and earthy feel of the main restaurant.
The bold flavours and vibrant colours of live-fire cooking were fully embraced within the interiors of Berber & Q's first two premises. As the older sibling, Carmel features a more mindful use of natural, earthy materials. Maintaining a sense of poise through refined design choices results in an informal yet stylish space, whilst still paying homage to the wild cooking.
Architecture / Design: Alice Thompson, MATA Architects
Photography: Peter Landers

www.carmelrestaurant.co.uk