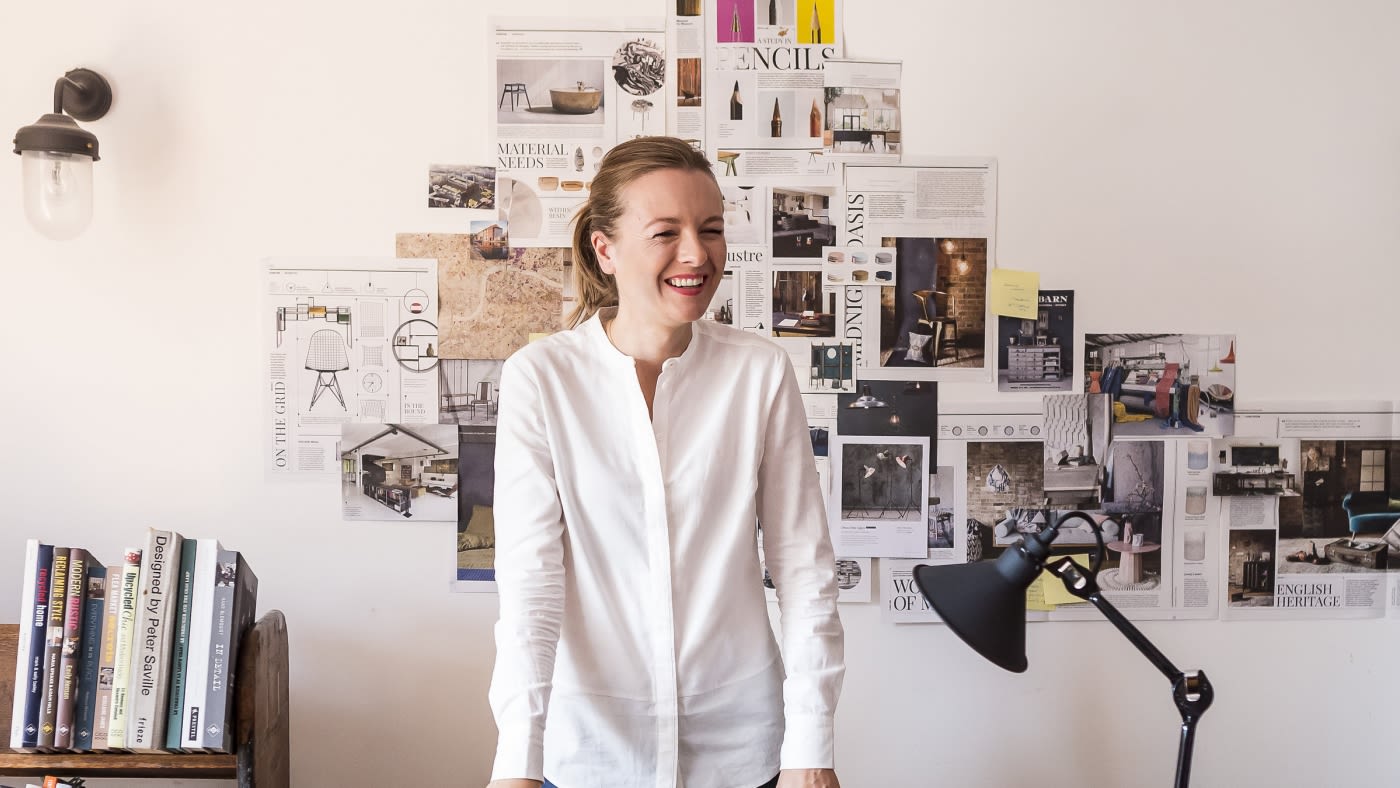 skinflint meets: Sophie Bush, founder and editor of Warehouse Home
We're really excited to announce a new series on our blog in which we catch up with influencers from the world of interiors. First up is Sophie Bush, founder of Warehouse Home. Sophie worked for some of the biggest and most influential magazines before launching Warehouse Home. Since then, the magazine and website has grown considerably and has a loyal readership.
We caught up with Sophie to ask her amongst other things why she decided to start her own magazine and her all-time favourite designer.
skinflint: What are your top tips for getting the industrial look in the home?
Sophie: You don't have to live in a converted industrial building to channel the look. 'Industrial' can be interpreted in so many ways, from classic to contemporary, vintage to reclaimed. And you can also incorporate industrial elements into other interior styles. If you need to build your confidence, start with smaller accessories or a single feature piece, like a coffee table or a striking light fixture, and introduce other elements to complement them. But don't just think about whole items, a successful industrial scheme will take full advantage of different textures and finishes too, offsetting polished and patinated metals with aged timbers will further enhance the visual interest of your space.
Image courtesy of Warehouse Home, styling by Lucy Gough, photography by Oliver Perrott
skinflint: What's the one industrial piece you need to buy to get the look right?
Sophie: If you want to take a truly authentic approach, consider pieces directly from - or designs inspired by - factory settings. If large-scale furniture isn't an option, consider smaller changes - like adding castors to a table or cabinet - such elements are instantly industrial, yet easy and cost-effective. Lighting is also so often overlooked in home decorating, but it can completely transform a space. Salvaged originals and contemporary designs inspired by factory shades will bring an instant touch of industrial style.
skinflint: What trends have you seen come through recently that excite you?
Sophie: What really excites me is the enduring and global popularity of the industrial aesthetic. And the many many ways in which it can be interpreted. In Warehouse Home magazine, we celebrate 'current trends' for materials like Jesmonite or leather but what we're really demonstrating is that there are such a wide range of ways in which to complement industrial features or achieve an industrial inspired scheme.
skinflint: How can you add colour into an industrial scheme?
Sophie: Warehouse conversions themselves are full of grit and character and raw concrete, brick and plaster really lend themselves to bold blocks of colour just as much as a strict monochromatic scheme. The soft grey tone of concrete looks amazing combined with pops of vibrant yellow for a modern look, while shades of pink combined with concrete and timber will create an attractive soft industrial effect. Otherwise, the natural red and orange in brick mean that these colours can be effectively introduced in decorative accessories. Red, green, grey and black are often found on ironwork and woodwork in original conversions, so you might consider introducing these colours if you're keen to channel an authentic feel throughout your interior. And of course all of this applies if you don't actually live in a warehouse conversion but are drawing on industrial influences in your interior decor.
Image courtesy of Warehouse Home, styling by Sophie Bush, photography by Charlie Surbey
skinflint: Tell us a bit about yourself, what did you do before starting Warehouse Home?
Sophie: I spent many years working in publishing, for some of the world's biggest magazine brands. I had always been passionate about architecture and design, as well as print, so when I graduated from university I headed straight to London for my first internship at Frieze and I've worked in magazines ever since.
skinflint: What made you want to start Warehouse Home?
Sophie: In 2012, I bought a flat in a warehouse conversion in east London. I had fallen in love with its original features - exposed brickwork, columns, wooden floors, loading bay doors. But through the process of sourcing furniture and lighting to suit those elements I realised there was no premium media brand catering for the 'loft living' lifestyle or aesthetic - despite the fact that the industrial look seemed to be absolutely everywhere! I knew I had spotted a gap in the market. Just over two years later... we've published five issues of Warehouse Home and the magazine has been read in over 100 countries worldwide.
skinflint: What do you love about vintage / industrial / reclaimed style?
Sophie: The sense of history and craftsmanship. I like clever, hardwearing designs. So I naturally gravitate towards classic pieces that started their lives on the factory floor. Aside from being built to last, meaning I won't need to find a replacement any time soon, old factory lamps and vintage industrial stools have character which resonates with and complements the heritage features of my home.
skinflint: The magazine really champions smaller, authentic brands rather than run-of-the-mill, well-known names. Do you think we've seen a real shift in what people want to buy and where they want to buy it from?
Sophie: We champion originality and quality. I think there's a renewed appreciation for craftsmanship, and that's something we also really focus on in Warehouse Home - whether it's a carefully restored light or a beautifully crafted item of furniture, we celebrate the art of making, particularly if traditional tools and techniques are employed. We think its important to remember the process behind a piece and to value what makes something unique. So yes, we're always keen to support independent brands and emerging design talent, but we will also showcase high-street and high-end designs where we deem them to be stand-out pieces.
skinflint: Who's your favourite designer? and why?
Sophie: I admire Le Corbusier. He was an architect, designer, writer, artist - a true multi-tasker. A pioneer of modern architecture, he actually had no formal training and was self taught. Yet his career spanned more than 50 years and many of his projects are now UNESCO World Heritage sites. He also had a brilliant outlook on home decor: "The home should be the treasure chest of living."
skinflint: Do you have a favourite era when it comes to interiors? E.g. Mid century, Art Deco, present day? What's your most treasured interiors possession?
Sophie: My personal style is quite traditional and I enjoy sourcing vintage industrial designs. I have always loved the classic Lampe Gras task lamps: first designed in 1921 they are robust and ergonomic. Le Corbusier was an early fan and used them in many of his projects. I have a No.207 on my desk.
Image courtesy of Warehouse Home, photography by Debbie Bragg
skinflint: What's next for Warehouse Home?
Sophie: 2017 is going to a big year for Warehouse Home. The debut Warehouse home book will be published by Thames & Hudson in a matter of weeks. We're currently raising investment in order to substantially scale the business - and we will be launching a crowdfunding campaign so that our loyal readers and followers can join our journey too.
skinflint: Finally, we know you are a fan of original vintage lighting but if you had to pick just two of our lights which would you select and why?
These extra large Polish lights would make a real statement in an open-plan industrial conversion, particularly hung in a cluster. I love the detailing of the manufacturer's marks on the junction boxes.
This 1960s German medical light has been converted into a quirky desk lamp. The substantial shade ensures the workspace is well lit.
With thanks to Sophie Bush from Warehouse Home.
SaveSave