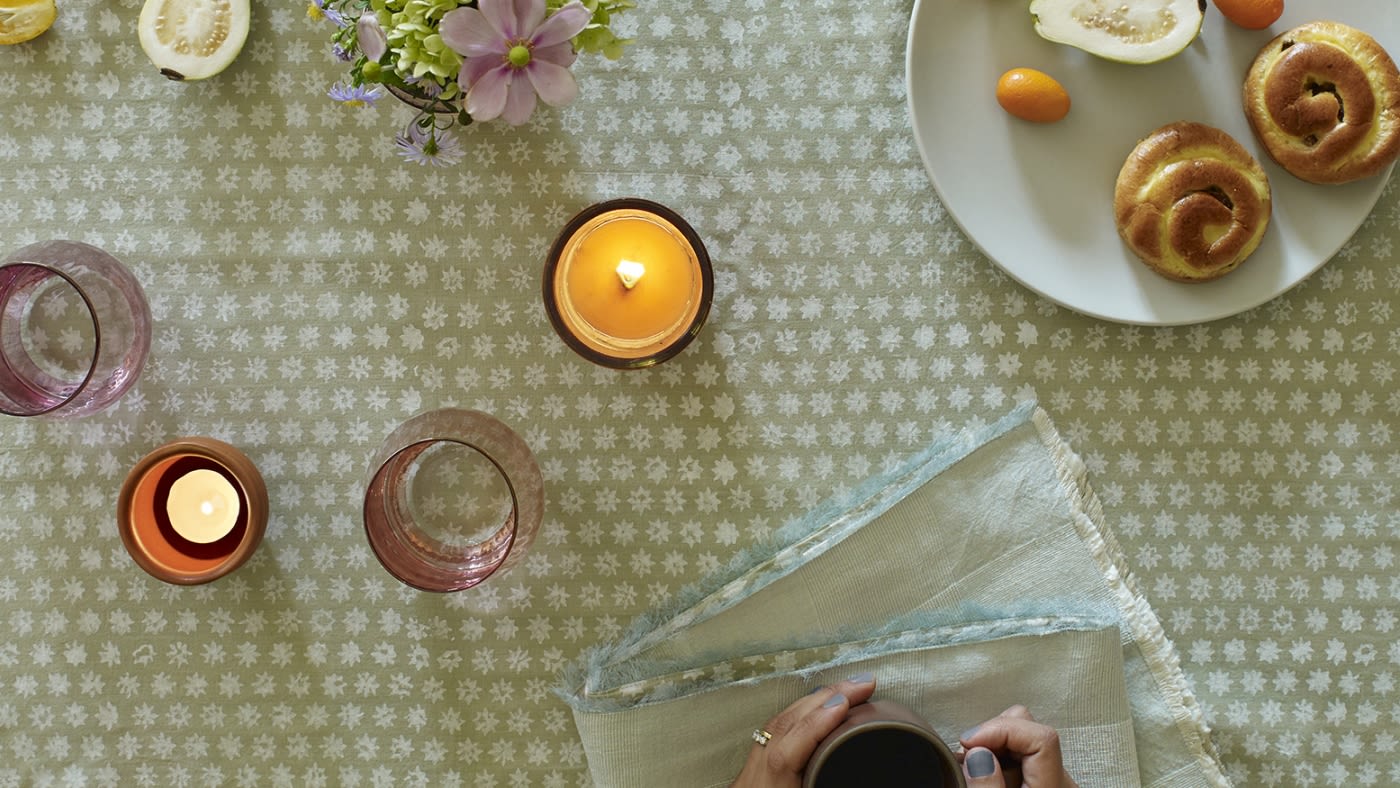 skinflint meets: Rohini Wahi, founder and editor of The Beat That My Heart Skipped
Journalist Rohini Wahi is the founder of design and inspiration blog The Beat That My Heart Skipped and new Indian-inspired lifestyle brand Napeansea. We recently caught up with Rohini to discover a bit more about the story behind her blog and to find out her top trends for 2017.
Q: Your blog is 10 years old this year – congratulations! What made you want to start a style blog and how has it evolved over the years?
I used to spend a lot of time looking at American design blogs – a decade ago the US was so far ahead of the game when it came to digital content. My go-to blogs were Design Sponge (who I now have the honour of working for) Poppytalk and Oh Joy. There were a couple of other UK design blogs, who I can count on one hand, but are no longer running. I wanted to read a UK focused design blog myself – so I saw a niche and thought I would write it myself. You can read about my blog's evolution in this retrospective I published last month.
Q: You have advised many people on how to decorate their homes over the years, how have people's tastes changed? Do you feel people embrace trends or tend to stick to what they like?
The interiors industry and appreciation of design has come SO far since I began writing about design. This is mainly due to the arrival of Pinterest which really opened up a world of inspiration for millions of people - some of whom, maybe, never paid much attention to home styling before - believing it was for the realm of professionals or magazine editorials. Instagram has obviously taken this interest to a whole new level! Ten years ago, people who would balk at grey walls, I now see overhauling their new homes with the colour - and I have also heard mid-century design described as 'a bit student-y'... certainly not the perception now! People are definitely more design-conscious and open to embracing trends.
Q: Describe your own personal interiors style for us:
Classic, colonial and a little bit luxurious.
Q: The industrial/ vintage trend has been popular for a while now, how have you seen this evolve in the last decade?
Honestly, ten years ago when we were seeing homes with concrete floors and peeling reclaimed lights in Elle Decoration - I remember pointing out their nuanced beauty to non-industry friends and they thought I was absolutely bonkers. Now it's unbelievable how the trend has become part of our landscape, partly down to brands such as skinflint who have made it so accessible.
Q: How important is the provenance of a product to you? Do you think it's become increasingly important to people to know where the products they're buying come from?
Yes, more than ever. Again, with social media it's so easy to interact with, and really get to know, the brands we are investing in and the story of the products we are buying - and in turn for brands to be able to have a voice and tell consumers about that important journey. I launched my own Indian-inspired homeware line last year, Napeansea - everything is handmade ethically by artisans in India, and inspired by the nostalgia of our heritage - the response we have had from customers, who really value the provenance of our pieces, is incredible.
Q: What are your top tips for getting lighting right in a scheme?
I'm a stickler for the right light bulb! It's the key to making everything in the room look amazing and creating the perfect cosy atmosphere. The correct bulb has to emit a warm 'yellow' glow; a vintage filament light bulb is perfect, and there are now modern versions that give the same look. You don't want a 'white' fluorescent or any bulb that will cast a cold light. Also a dimmer switch is a must to be able to change the mood!
Q: What do you think really makes a house a home?
Things! I used to be a super minimalist but as my family has grown - although sometimes clutter and tiny toys drive me mad - a family's belongings really add layers to any interior. Also books - I love to have them surround me in my living room - they are a real conversation piece when new visitors come to the house too - you can begin to get to know someone by the books they have read.
Q: We know you're always travelling to trade shows and seeking out the hottest trends, what are your favourite ones at the moment?
I'm loving pink at the moment - the whole pink velvet thing is quite impractical but wonderful. Also polka dots are back - in an irreverent way - hand scrawled, misaligned and imperfect on cushions and ceramics.
Q: What three things would you save (family and pets aside) from your home if it was on fire?
My laptop, my Marco Crivello painting in the living room, and I'd chuck as many books out of the balcony as physically possible.
Q: What are your favourite places to buy items for the home from?
It has to be Anthropologie - I was trying to think of somewhere clever and less obvious but if money was no object, I would like everything in Anthropologie please. It's the best place to find inspiration - I actually don't just go there for the products - their visual displays completely lose you in daydreams, the scent of the store is just heaven and I love that you may go in there one day and find something wonderful and never see it again - that's why I always buy things the second I fall in love with them!
Q: Do you have a favourite era when it comes to interiors and design? (e.g. Art Deco, Mid Century)
You wouldn't really be able to tell from my home as I keep it pretty bright, light and modern but I do have a favourite era that I pepper my modern home with- I love 19th Century Gothic accessories like gilded convex mirrors (we have one in our hall) and grandfather clocks (I bought one from India and painted it matte black) and unusual brass figurines.
Q: Finally, if you had to pick your top three skinflint products, what would they be?
1. All of the Retro Czech collection are just stunners! So simple and graceful and the different cut glasswork patterns are just sublime. Which one to choose?
2. I love the unusual silhouette of the Stepped opaline glass pendants and their milky colour – perfect for over a dining room table.
3. The combination of materials and industrial details on the Retro British desk lamp is just perfection - the high shine aluminium plus the bakelite handle, brushed steel base and burgundy cable are just layers of loveliness.
To keep up to date with Rohini you can follow her on Instagram and Facebook:
SaveSave
SaveSave