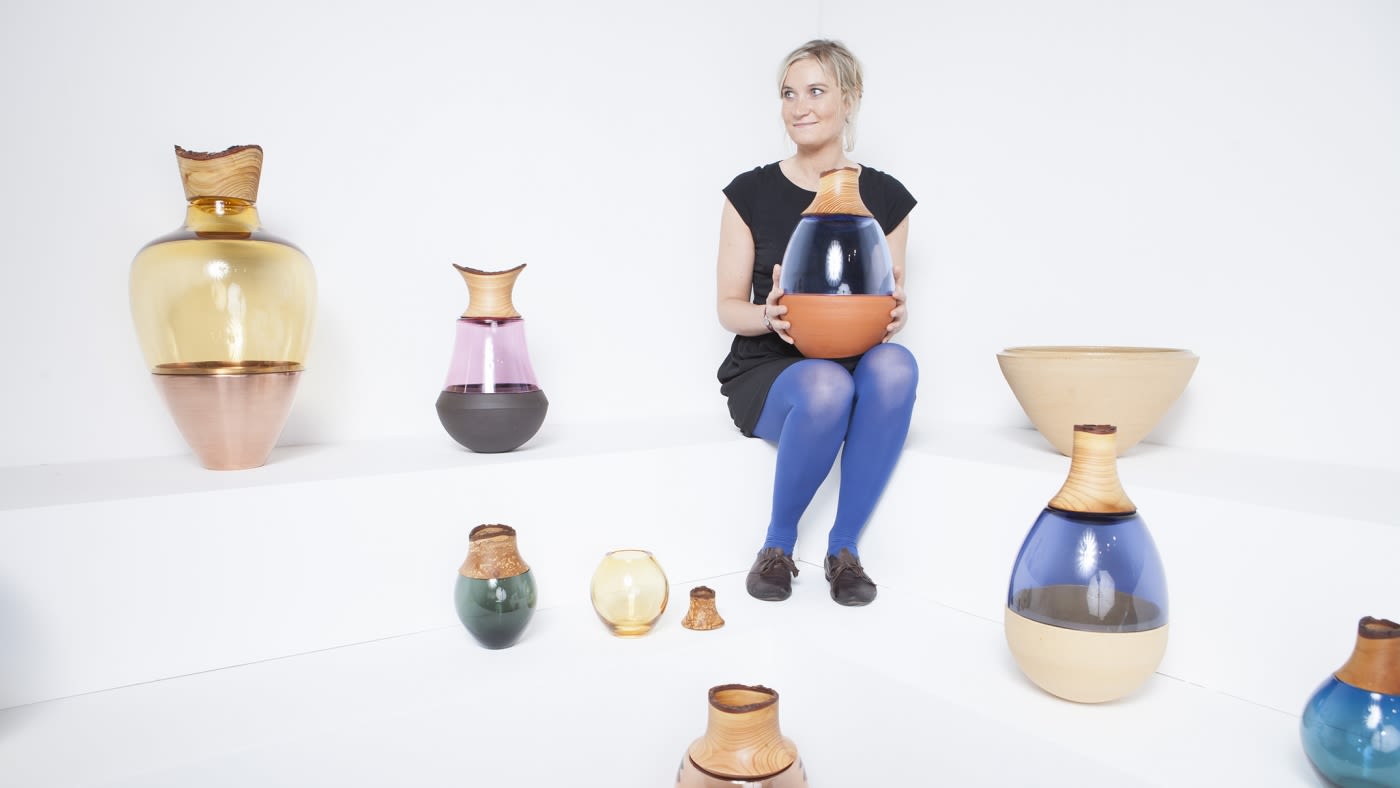 skinflint Meets: Pia Wustenberg, Designer
In the final instalment of skinflint Meets for 2017, we caught up with designer Pia Wustenberg. Known for combining different materials to make an eclectic range of objects for the home, we caught up on Pia's plans for the future, her influences and found out which material she really likes working with most.
skinflint: What's your story? How did you come to be doing what you're doing today?
PW: The real story of me starting a life in design is a combination of the places I have lived and the influence they have had on me. The raw nature of my motherland (Finland); the practical safety of my fatherland (Germany); and the eccentric old world of my chosen home for over fifteen years, the UK.
My work emerges from contrast and the fascination in traditional making processes, and their place in the modern world. My lifestyle between these countries and cultures has allowed me to have both an inside and outside view at their way of life, helping me to see aspects of my environment and the crafts I work with a fresh.
skinflint: You work with lots of different materials; wood, paper, glass, ceramics. What do you love about combining them?
PW: I find the contrasts really interesting and exciting. For example, paper next to glass, makes the glass look hard,shiny and colourful and the paper, soft and matt. Paper next to wood makes the wood seem hard and warm and the paper, delicate and fragile. Wood next to glass makes the glass look liquid, transparent, light and the wood looks warm and soft. So, each material can have a new aesthetic almost according to the material it is paired with. This I find fascinating. Further, I think the challenge in making different materials fit together is one that is great to pose to craftsmen. Makers, usually work in isolation, and my projects challenge them to work collaboratively.
skinflint: Your work spans many different disciplines, uses the expertise of a variety of craftspeople and spans many different countries. How does this diversity inform your design and what are the challenges you face working this way?
PW: I find travel itself a great 'mindspace' to create. I often sketch on planes or trains; transient places allow a freedom and quietness that is good for the flow of the mind. Working directly next to the craftsman allows me to influence details, but is not always possible. Mostly it educates me to the way a material likes to behave, as I believe a good design shouldn't force a material to do something that is against its nature. To push boundaries, yes, but to find solutions that are comfortable to make.
Of course, visiting a different culture, I am sensitive to the differences, and sometimes even mundane everyday solutions inspire new designs.
skinflint: Do you make in every discipline your work uses?
PW: No, unfortunately not. I have worked with every material with my own hands, but not every process. However, I have seen them all and take a lot of photos for reference.
skinflint: Do you have favourite material to work with? Why is it a favourite?
PW: Paper. It is incredibly versatile. Or wool, which is also incredibly versatile. But probably paper.
skinflint: What would be your dream project?
PW: Not one particular project, but like most creative, I would love to have endless time, endless space and endless access to workshops. Really, the opportunity to create without being forced to narrow down to a specific outcome.
skinflint: Who are your design heroes?
PW: Almost too many to mention, but if I have to narrow it down, it would definitely include Kaj Franck, Tove Jansson, Dieter Rams, Sottsass, Castigliano, Sarpaneva and Charles & Ray Eames.
skinflint: Where do you find inspiration for your many different designs?
PW: In the world around me and in making processes, I've had the pleasure to see and understand. I like to see: oh, you can do that, but maybe apply it differently! And then work this into a product. Or seeing something old and forgotten and reinvent its place or use.
I also like just being creative in the sense of problem-solving. I used to live in London for a long time where everything is at your doorstep, easy to buy. Now I live in a very rural part of North Germany, and I enjoy the fact that I can spend a day making something that before I could've just gone out to buy. This forces me to be creative in a very pragmatic way, and inspires new ideas.
skinflint: Your company Utopia and Utility is very much a family business, how do you balance working alongside your mother and brother? Is the company a collaboration or an independent vision?
PW: Actually, my mother just makes lunch [laughs] and tends to my daughter while I work. She packs when things get busy and is a great help to have around. My brother lives in Finland and I live in Germany, he runs the finance and export aspect. I have two more people working with me, Ranee Lachaize and Bastian Jöhnk. Basti is hands-on and Ranee deals with the customers. I do everything else, like design, cleaning up, making prototypes, travelling or just taking out the rubbish.
skinflint: What has been your favourite project to date?
PW: I guess the Stacking Vessels are my most innovative project, and the basis of my company. Currently, my favourite collections are the Branch Bowls or Heiki; they are less complex. I also still love processed paper, and am constantly wrapping my brain around the idea of where to apply it correctly.
skinflint: Do you have a favourite designer? If so, who?
PW: I love Tove Jansson, but she is more an artist and inventor of worlds. Kaj Franck, Timo Sarpaneva spring to mind as great Finnish designers, Castiglioni is a great Italian.
I was taught by Jurgen Bey, he is fantastic too, in terms of design context.
skinflint: What's next for Pia Wustenberg?
PW: More travel and more crafts so we can create something with new processes. Maybe, Eastern Europe this summer. I am quite keen to find some craftswomen, as most craft we work with is produced by men.
It's interesting working in this realm of products, as the making process and people involved are such a large part. So, as always, the next step is only possible once I find someone to do it with.
skinflint: Finally, please choose three of your favourite skinflint current collection and tell us why you like them.
I chose the retro Czech prismatic pendants, the 1930s German factory lights and the Swedish military desk lights, because I think they have a practical aesthetic to them while still being extremely stylish. They're timeless too so will work in both contemporary and more classic schemes.
Retro Czech prismatic pendants