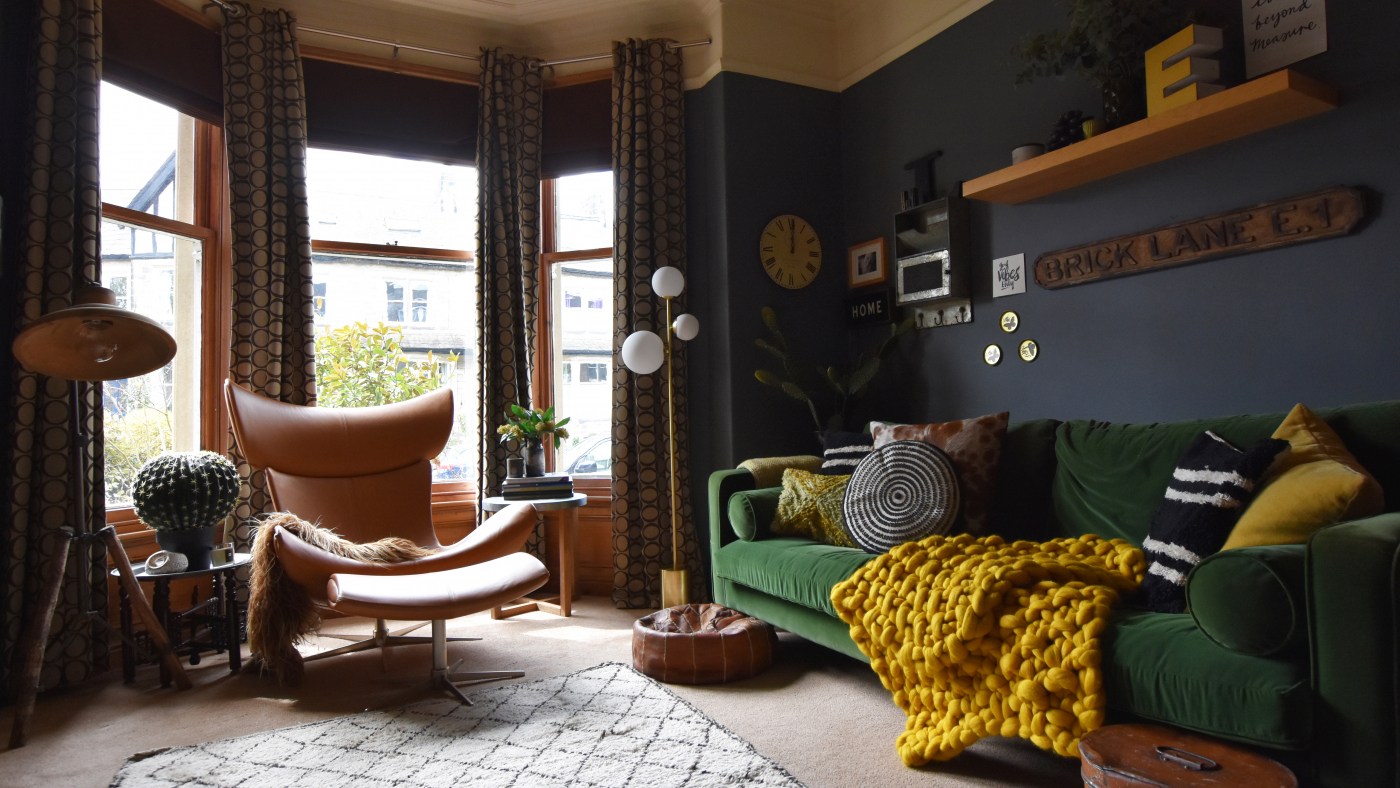 skinflint Meets: Nicola Broughton, Interior Design Blogger
Award-winning interior design blogger Nicola Broughton, aka The Girl with The Green Sofa, has built up a cult following on Instagram by decorating her home with personality and colour. She tells us more about her love for rich Autumnal hues and creating a haven of relaxation for her family home in our next installment of skinflint meets.
We are big fans of the dramatic, maximalist interior of your home. Tell us more about your style...

I've been a closet stylist for over 15 years (long before I started on Instagram) so I learned to make mistakes and what suited me away from the spotlight! I still get things wrong, of course, but I am more confident of my style now. I decorate visually and how a room's scheme comes together is based on how it looks and, more importantly, how it feels to be in the room. I work long hours and my home is my haven, so you will find colours that work together to create a relaxing environment for me and my family.
Above: One of our restored 1950's green machinist lights makes itself at home on Nicola's side table in the window, making a perfect task light when sitting in her leather armchair reading.
I'm drawn to Autumn colours - so you will find lots of ochre, green and brown - and the dark side, as dark colours create a cosy feel for me. I'm also a big fan of wallpaper to add an extra layer of texture to a room.
Elsewhere I'm a long-standing fan of vintage items and upcycling furniture; creations that stand the test of time and add a patina to a room which you can't easily find in newer furniture. I also love to find a bargain in a charity shop or vintage store, old items that have a story.
Generally, I'm a collector which is why I will never embrace a minimalist vibe. I like texture, soft furnishings, beautiful vignettes of items (as my husband says: "lots of little art installations all over the house") and in my opinion, a sofa without cushions is not a relaxing place at all.
Have you always loved colour as much as you do now?

Yes, I've always been drawn to colourful interiors but to be fair, when we first bought our home, I chose a more muted palette always with an eye on selling our home in the future. But then I realised this house was big enough to grow with our family - ideally located for schools - and we weren't likely to move anytime soon. It was then that I chose to go with my personality, became bolder and chose schemes that worked for me rather than a hypothetical buyer.
What lessons have you learnt from renovating your home?

Choose your workmen carefully. We've done a fair bit in this house - a Victorian home near Leeds; a kitchen diner knock-through with new kitchen, a remodel of the third floor including a new bathroom, basic renovating of each room, and most recently our master bathroom. Projects have gone smoothly when we have used great quality workmen. But we've had some disasters (like replacing our top floor bathroom twice) where we've gone with less experienced workmen!

Talk to us about biophilic design - it's clearly something which inspires you...

Biophillia is the concept of bringing the outdoors in, and of connecting with nature to gain the maximum benefit from our homes to improve our wellbeing. Incorporating nature into our homes and offices has been shown to reduce stress, blood pressure levels and heart rates, whilst increasing productivity and creativity. This can be done directly through plants, air (a breeze), water or fire (like an open fire or wood burner), or indirectly through a window looking out into the garden, or the placement of furniture to create a nook for relaxation. Given our fast paced world and the increase in depression and stress induced illnesses, it is no wonder that this is becoming a key focus in 2019. I've always embraced biophilic design. Creating a home that aids relaxation is important to me, especially working long hours that leaves very little time to stop. When I do, I want to feel as relaxed as possible.


As you probably know, we recently declared Climate Emergency as a business and are doing all we can to be 100% transparent and to become a net-zero carbon business as soon as possible but by 2025 at the latest. Do you think the climate crisis will start to have an influence on interior trends?

Yes I do, we are already seeing this start to creep into the trends of 2019. There is more talk of sustainable buying, of up-cycling, recycling, using what we have rather than buying new, and utilising natural materials wherever possible. Interior blogger Kate Watson-Smyth also launched a 'Do less Harm' directory of businesses recently. This is about companies that are doing more to reduce their harmful impact on the planet so that we can base our buying decisions on these criteria, including the packaging that is used to transport items we have bought.

I have always believed in upcycling, of using what we already have to create something new, something that has already proven itself to stand the test of time, but is given a new lease of life. I have learnt that if you choose to buy new, buy furniture consciously - perhaps an item that will live in your home for a long time, rather than moving with the trends. I still have most of the items of furniture I bought 20 years ago, much of which was upcycled by me.


As a female entrepreneur and investor, you're passionate about championing new and creative businesses. What three top tips do you have for small businesses looking to get off the ground?

Yes, I am, because starting your own business is likely to be the most challenging and the most rewarding thing you will ever do. You should be as prepared as possible; talk to potential customers, suppliers and others that have done it before. Learn about your risks, what will happen if people don't buy as quickly as you would like, or what you will do to survive if buying habits change (such as those seen recently due to Brexit). Know what makes you special, what it is about your business that will attract others, and market well, using as many channels as possible. Be prepared to work hard and long hours to get off the ground, only you are responsible for your success.
Apart from the skinflint light (obviously!), what is your favourite element at home?

My green sofa which has been responsible for me starting this journey. But I also have to say the addition of my copper bath, something I have lusted after for a long time. It is beautiful and comfortable and it's patina will age with time, something that I love about many of the items I choose for my home. I live in an old house - nothing is precious - and an aged item adds texture.



Why did you choose this particular vintage machinist table light from us at skinflint and what effect does it have on the interior?

Firstly its colour, my favourite. But, also its heritage - the fact it has a history and a story to tell. It has been sensitively restored, is a sustainable choice, and I love the industrial vibe. I've waxed lyrical already on why a vintage item adds so much to a room so I won't repeat myself again!