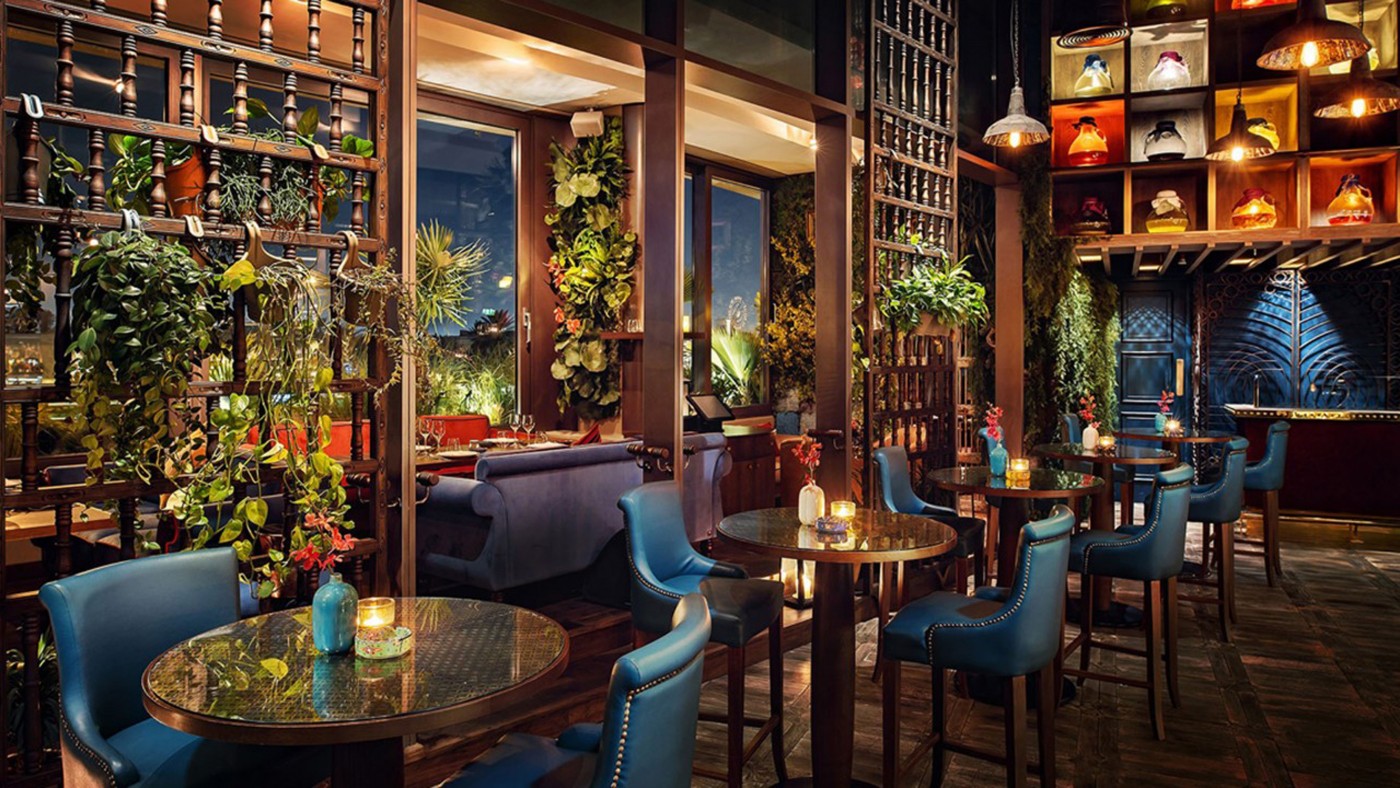 skinflint Meets: Luke Locke-Wheaton, Lighting Designer
Above image: COYA restaurant, Dubai
Understanding how light and shadow can affect space as well as our emotions is a fundamental consideration when lighting your project or home. Luke Locke-Wheaton, lighting designer and co-director of award-winning Lighting Design Studio, talks to skinflint about all he's learned over his years in the lighting industry.
Above: Careful consideration was given to the selection and placement of light fixtures to enhance this family home in Hampstead, London

skinflint: Firstly, can you explain why lighting is so integral in any interior?
Luke: A well planned lighting scheme can transform a space; enhancing colour, texture, comfort, well-being, productivity, safety and even health. The impact of light can fundamentally affect our emotional state.
How has your degree in three-dimensional design influenced your visions and projects?
Awareness of form and thinking in three dimensions is a valuable tool when putting together coherent lighting schemes. Throughout my degree course we were encouraged to 'think outside the box', to innovate instead of imitate. This has really helped ensure we bring something a little different to our projects.
Above: Exterior lighting for rural buildings on a Wiltshire country estate
Are there any designers, present or past, that you take inspiration from?
Yes lots! Far too many to mention them all. Some standout out names would be Olafur Ellison, James Turrell, Charles Rennie Macintosh, Gaudi, Le Corbusier, Charles and Ray Eames, Walter Gropius, Ingo Maurer, Leonard Da Vinci. And of course, the best inspiration of all, mother nature.
Above: An Edinburgh townhouse that can adapt to moods at the touch of a button
What common lighting problems do you often come across in projects?
Dimming and control of LEDs - it's not straightforward dimming LEDs to flicker free low levels. We spend a lot of time checking LED, driver and dimmer / control system configurations to ensure compatibility.
What are your top tips when thinking about lighting an interior?
Remember darkness is just as important as light.
Think about lighting early on. Some effects such as shadow gaps require details built into the architecture, and cables need to be run very early in a project, at 'first fix' stage.
Flexibility is key, so consider lighting control from the start. Consider how each space is used and create 'light scenes' to compliment the space and support the tasks performed.
There's really two types of light - diffused and direct. Interiors generally need a combination: diffused light is great for ambient and task lighting; direct light is crucial for accent lighting texture, objects, artwork, and architecture. Build up several light layers, each with independent control to give the ability to set several light scenes.
Above: Blitz Crossfit in Twickenham has been fitted with colour-changing light fittings in its new studio space which can switch from crisp white light to these vibrant colours depending on the class.
You work across residential and commercial projects – are you able to switch between the two mind-sets creatively?
Yes, as a studio we really enjoy both and they do have similarities. Although our approach may differ, ultimately our work is about creating exceptional experiences whether that's in a home, restaurant, hotel, shop or art gallery.
What has been your standout project to work on to date?
We've been fortunate enough to have worked with some fantastic brands. We've done several exciting projects with Jaguar Landrover and recently completed a wonderful project with Sotheby's, but my personal favourites have been the projects we've completed for Coya. We've travelled globally working on their restaurants. I'm actually writing this sitting in the bar at their brand new Paris restaurant sipping on a Pisco Sour. Coya are at the forefront of innovative, immersive and exciting dining experiences. A dream client who really understands the importance of light.
Above: Lighting is an integral part of COYA's immersive and innovate dining experiences in Mayfair, London
Where do you see the future of the lighting industry heading?
LED is certainly here to stay. Their impressive lamp life, low energy consumption, and tiny size offer opportunities that weren't previously available. Lighting control is also going through a revolution. The IOT (internet of things) is really challenging established ways of control and installing lighting systems. We see technology heading away from central hubs and moving towards a mesh of 'smart' light fittings offering new opportunities to transmit, and perhaps more importantly, collect data. We are really seeing a shift towards sustainability and recyclability. We believe this is more of a cultural shift than trend and for good reason. The younger generation now want products, companies, and organisations to care about nature, wildlife, plastics, product life cycles, and climate change. The Lighting Design Studio is proud to be a carbon-neutral company and want to do everything we can to protect this planet for future generations. That's one of the reasons we're big fans of skinflint.
Above: Luke Locke-Wheaton (far right) and the rest of the Lighting Design Studio team
Finally, please could you pick your favourite three skinflint vintage lights:
There are so many to choose from. We're huge fans of mid-century design. But we've been harbouring a love of 1970's style for many years, which is great because we're seeing a real trend towards this at the moment.
We're itching to use this Cut Glass Czech Chandelier on a project soon:

This 1960's classic is timeless and suits many applications:

Finally, nautical light products have always been desirable. You can't beat the quality and robustness of this cargo shipping light - they just don't make them like they used to: