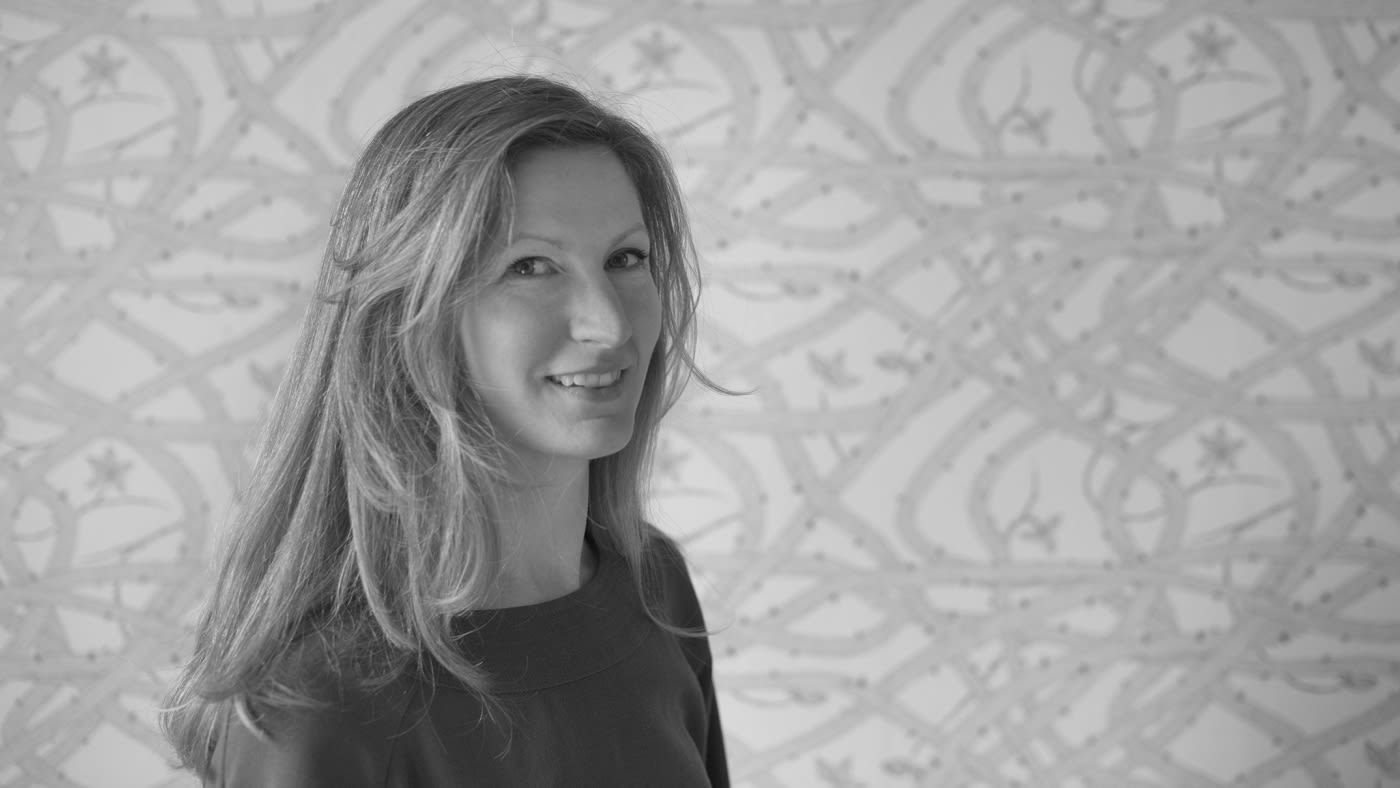 skinflint Meets: Abigail Edwards, Designer
Next in our skinflint Meets series, textile and wallpaper designer Abigail Edwards. We talk all things pattern as well as discovering her favourite skinflint lights.
skinflint: You trained as an artist and then moved into journalism, what led you to start designing your own collection of wallpapers?

Abigail Edwards: After graduating I continued making small illustrations whilst working as a stylist, partly because at the time I lived in various small flats where there wasn't any room to paint. One day I created an illustration that I thought would work better as a pattern, so I tried it as a wallpaper. It worked and luckily people bought it, and that's how the business began.

skinflint: Do you have a favourite design or piece within your collection?

AE: I generally like my most recent designs the most, so at the moment it's Oak Tree and Rapunzel Stripe, although I still love Brambleweb in nude (below).


skinflint: Your work is inspired by nature and has a fairytale quality to it - how do you find your inspiration?

AE: I don't go out seeking inspiration, an idea usually comes to me when I'm taking time out and am more relaxed. I grew up in very rural Gloucestershire surrounded by woodland, so natural imagery will always be close to my heart. I also spent my entire childhood reading fairy tales and I still love that very romantic slightly dark world now. So, for instance, a scene in one of Matthew Bourne's ballets might trigger an idea or seeing a colour scheme in the set design for a film; really, it could be anything.

skinflint: Where are your papers and fabrics made? Are there any important processes in their manufacture?

AE: All of the papers and fabrics are manufactured in Lancashire in the UK and I try to make them as environmentally responsible as possible. The papers are all FSC certified and made with non-toxic water based inks. One of the fabrics is screen printed in Thailand and this is because the design has hand-embroidered thorns and it wouldn't have been possible to replicate this skill in the UK.

skinflint: What three things (work related) could you not live without?

EA: A calm environment to work in, sketchbooks and drawing pens.

skinflint: What would you be doing if you weren't designing your own collections?

AE: I would probably be a full-time interiors stylist, which I still do occasionally as I do love it.

skinflint: Who do you admire from the world of interiors and design?

AE: I love Paola Navone's interior designs and of course William Morris, the UK's most important pattern designer.


skinflint: What would be your dream collaboration?

AE: I would love to work on a fashion collaboration and see one of my patterns on a beautiful dress, bag or shoe. But I'd also really like to do a ceramics collaboration and design a full dinner service. So many things, I could go on and on.

skinflint: Does your styling work ever inform your designs, or vice versa, or are they two separate creative entities?

AE: They are very separate. When I am styling I am usually working with a brand, so I am trying to make their products look as good as I possibly can and take their direction so as to reflect their brand. My style is naturally quite muted and natural but I am often styling really bright and modern, sunny sets for clients.

skinflint: You're a member of ACID (Anti Copying in Design). Do you think more could be done to protect original design?

AE: It's extremely upsetting to see your designs being used by other companies with something subtly changed so that they can call it their own. Especially by a company that I would have happily collaborated with had they of asked. I think the mindset of larger companies needs to change. If their focus was to create sustainable products intended to last longer than one season then designers wouldn't feel so pressured to quickly churn out vast quantities of designs, or feel the need to steal other people's because they don't have time to create their own. Many people I know whose work has been copied may have spent an entire year working on just one or two designs.


skinflint: What's next for Abigail Edwards?

AE: I have just finished my first book "Quiet Pattern" which is all about gentle pattern designs for interiors and is out at the end of April/early May 2018. It is perfect for people who are intimidated of using pattern in their homes and the calming effect it can have. I am also launching some rugs at ICFF in New York in May and I am currently working on a new wallpaper design.

skinflint: Finally, please choose your favourite three designs from the current skinflint collection and tell us why you like them.

I love the industrial quality of the MOD factory lights by Simplex, these would look great in my kitchen.
The Swedish military desk lights are super practical. This would be so handy to have on the desk in my studio.
And lastly, I love the elegant simplicity and the milky white glass of the Period Czech pendant lights.