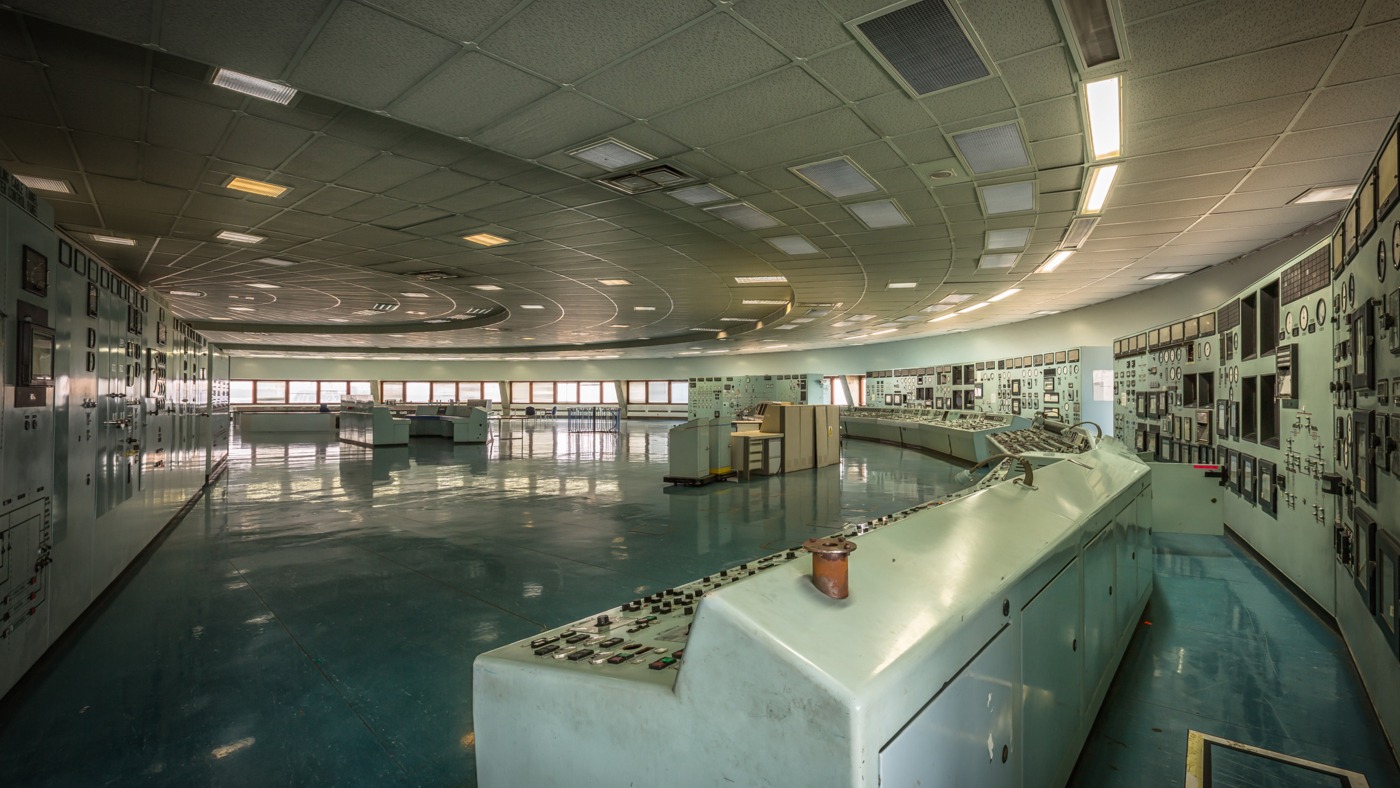 Fawley Power Station: Sci-fi on Set
At skinflint, stopping vintage lights going to landfill has been our mission since our journey started nearly 15 years ago. Whether salvaging from the Rolls Royce factory in Derby or the former Red Arrows' HQ, we take pride in restoring vintage lights and preserving the stories of the buildings they once called home. With a rich filmmaking history, our prop hire team have been busy geeking out over our latest collection of vintage lights from Fawley Power Station.
Built during the peak of nationalised industry in the U.K, Fawley was the fifth of thirteen huge power stations built in the mid to late 1960s. It began operations in 1971, right on the cusp of the decade's major oil crisis, meaning it never ran at max capacity.
Fawley's rich history goes beyond its controversial contribution to the climate crisis. Its brutalist silhouette was once a film and tv location scout's dream; its flying saucer style control room playing a key role in forming the backdrop to many an iconic movie. Ready to join the ranks of skinflint lights that have starred in productions like Pennyworth and The Outfit, each of our vintage lights from Fawley are available to star on the big screen once again through our prop hire service.
From a starship factory in a galaxy far, far away to a high-tech Moroccan power station, Fawley Power Station brought fictional worlds to life for nearly 50 years, and in the years before demolition began in 2019, Fawley had a star studded send off.
Mission: Impossible Rogue Nation is just one of the famous films shot at Fawley Power Station. Fawley's industrial design aesthetic made its era hard to place, making it a perfect location for bringing Mission: Impossible's sci-fi features to life.
Rogue Nation beautifully showcased Fawley Power Station's turbine hall. Fans will remember Tom Cruise jumping off an enormous yellow crane into an underwater safe, but may not be aware that the scene was shot at Fawley. The control block also stole the show in the scene, its hi-tech dials and buttons dialling up the sci-fi elements.

Above left: Aerial view of Fawley as Ethan and Isla parachute in from Mission: Impossible Rogue Nation (Paramount Pictures). Above right: Interior view of the control room in Mission: Impossible Rogue Nation (Paramount Pictures).
On the opposite side of the sci-fi spectrum, Fawley's rich industrial texture built the foundation for Corellia, a planet littered with starship factories in the Star Wars universe. Eagle-eyed viewers of Solo: A Star Wars Story will be able to spot familiar Fawley buildings as Han Solo darts through a spaceship factory in a daring speeder chase.
A mixture of sets and CGI overlays were used to transform Fawley into an otherworldly factory, with the art department marvelling at how easy the site was to work with. The turbine hall's maze of pipes and railings and the control block's uniquely shaped concrete exterior slot seamlessly into Star Wars' unmistakable design language.

Above (left): Fawley's control block in Solo: A Star Wars Story (Credit: Walt Disney Studios Motion Pictures). Above (right): Fawley's turbine hall in concept art for Solo: A Star Wars Story by Jack Dudman (Credit: Walt Disney Studios Motion Pictures).
Iconic as the building they were salvaged from, our newly restored Fawley Control Block Bulkheads played an integral role in the operation of the turbines. Engineers would keep a keen eye on these bulkheads, as each of the three glass lenses indicated the turbine's health; a clear light meant everything was running smoothly, blue highlighted a turbine issue, and red signalled a full blown fault. Restored and ready to hire for film and tv productions, these vibrant vintage lights would be right at home attached to a spaceship's command deck, or as a trio creating drama in a tense countdown to disaster.
Drama is something the 1950s Fawley Power Station pendants are no stranger to, having been exposed to enormous amounts of steam living in Fawley's boiler house. The wear and patina from all these years are a true representation of each light's individual story, making them a perfect prop to enhance new narratives. They certainly wouldn't look out of place in a dystopian bunker far in the future, or an abandoned spaceship left drifting in deep space…the possibilities are out of this world.
Above (left and right): Fawley's boiler house, featuring the 1950s Fawley Power Station pendants suspended in pairs. (Credit: powerstations.uk)
Big on impact, the pendants that once illuminated the vast turbine hall, make quite the statement. Their imposing nature makes them an ideal prop on any expansive industrial sci-fi factory set, or used to demonstrate the nature of an oppressive corporation in a dystopian city.
Above (left): ​​1950s Fawley Power Station pendant salvaged from Fawleys turbine hall. Above (right): Imposing XL Fawley Power Station pendants once illuminated Fawley's turbine hall.
Whilst we hate to see it go, we love what's been left behind; our latest collection of vintage lights salvaged from Fawley are as impressive as the legendary site they used to call home. After sensitive restoration by our workshop team, they're ready for the next part of their journey, telling brand new stories on the big screen…
Interested in hiring vintage lights from our Fawley collection? Get in touch with our prop hire team here.