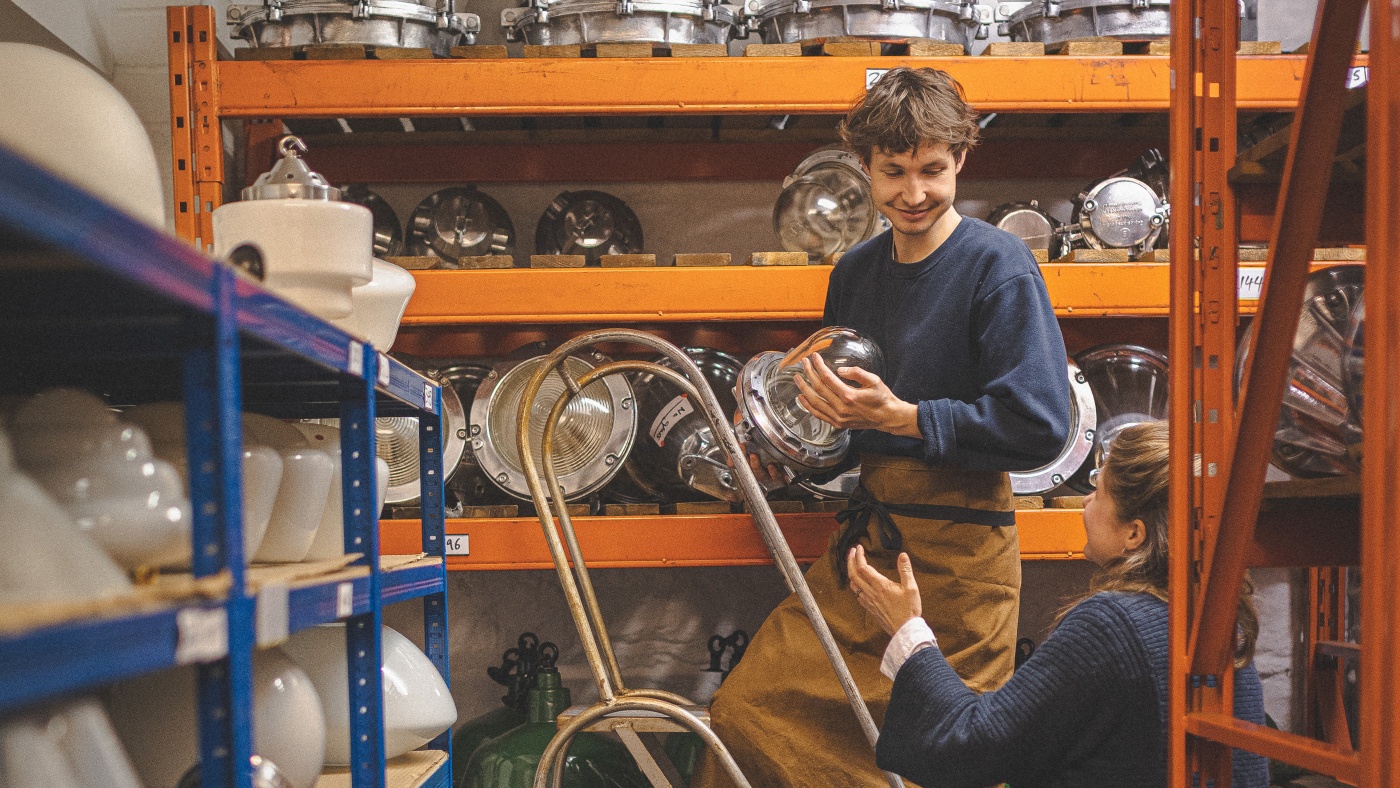 We're Hiring: Warehouse Assistant
Join team skinflint
We're Europe's leading vintage lighting retailer and we're on a mission to salvage, save and restore vintage lights that would otherwise go to landfill. We're now looking for a Warehouse Assistant to take on a hands-on role with our original vintage lights, working closely with our workshop and sales team to prepare, pack and ship each restored light for its safe travels to destinations around the world.
What you'll be doing
You'll join our busy workshop team, working collaboratively to ship our vintage lights to our clients.

You'll get to know our ethos, values and niche processes, making sure each light is ready for its next chapter.

You'll become a master of packing and dispatching vintage lights and their accompanying components, making sure each one meets quality control procedures.

You'll ensure each order is neatly packed and well presented, maintaining customer satisfaction.

You'll work closely with our sales team, providing details for shipping quotations on both UK and international orders.

You'll ensure all orders are fulfilled with their appropriate labelling and paperwork.

You'll lend a helping hand to the wider workshop team, assisting with everything from the cleaning and polishing of products, to dismantling salvaged lights.

You'll carry out product and component stock takes with a great eye for detail.

You'll receive training to give you the confidence to handle electrical goods and components.
Who you are
You'll be keen to join our busy workshop, getting stuck into a manual hands-on role.

You'll enjoy process oriented tasks and approach them meticulously.

You'll be adaptable with an ability to juggle and prioritise tasks.

You'll be naturally organised with a strong eye for detail and a good head for numbers.

You'll have excellent communication skills, with the ability to follow instructions.

You'll enjoy being part of a small team, working in a relaxed workshop environment near Falmouth, Cornwall.
Location
Penryn, Cornwall
Role
Full time, permanent
Salary
£22,000


Our benefits
Learning opportunities including training for areas of interest and development.
Social events including team and volunteering days.
A generous holiday allowance with 30 days (pro-rata) and an extra day for every year worked with the business.
A birthday treat of an extra day of holiday to spend celebrating as you wish.
Health and wellness initiatives including free eye tests and an employee assistance programme.
Life at skinflint
Our studio and workshop teams work closely together to make the magic happen. But when we're not at our desks, we're probably at the beach… We value time out of the office so we regularly plan trips like go-karting, fishing, long lunches, seaweed foraging and cooking courses. It's something we do to encourage ourselves to put down our pens, paper, phones and laptops and spend time together enjoying the simple things in life. We give back to our communities and encourage our team to spend volunteer days with NGOs that are important to them, because our team means the world to us.
Diversity and inclusion
At skinflint, our people are valued, respected, heard and encouraged to be their unique selves. We know that our people define our success and that a good idea can come from anywhere. That's why we create and maintain diversity, equity and inclusion in the workplace. We are proud to be an equal opportunity workplace and are committed to equal employment opportunities. We will continue to build an inclusive team from a variety of backgrounds, skills and views through a non discriminatory application, interview and hiring process. If you have questions, or needs that require accommodating, please get in touch with us.
The application process
Candidates should send a CV and Covering Letter to [email protected]. Interviews will be held at our studio in Penryn, Cornwall and will take place as and when we receive applications. For further information or a full job description, please contact the careers team. We can't wait to hear from you!