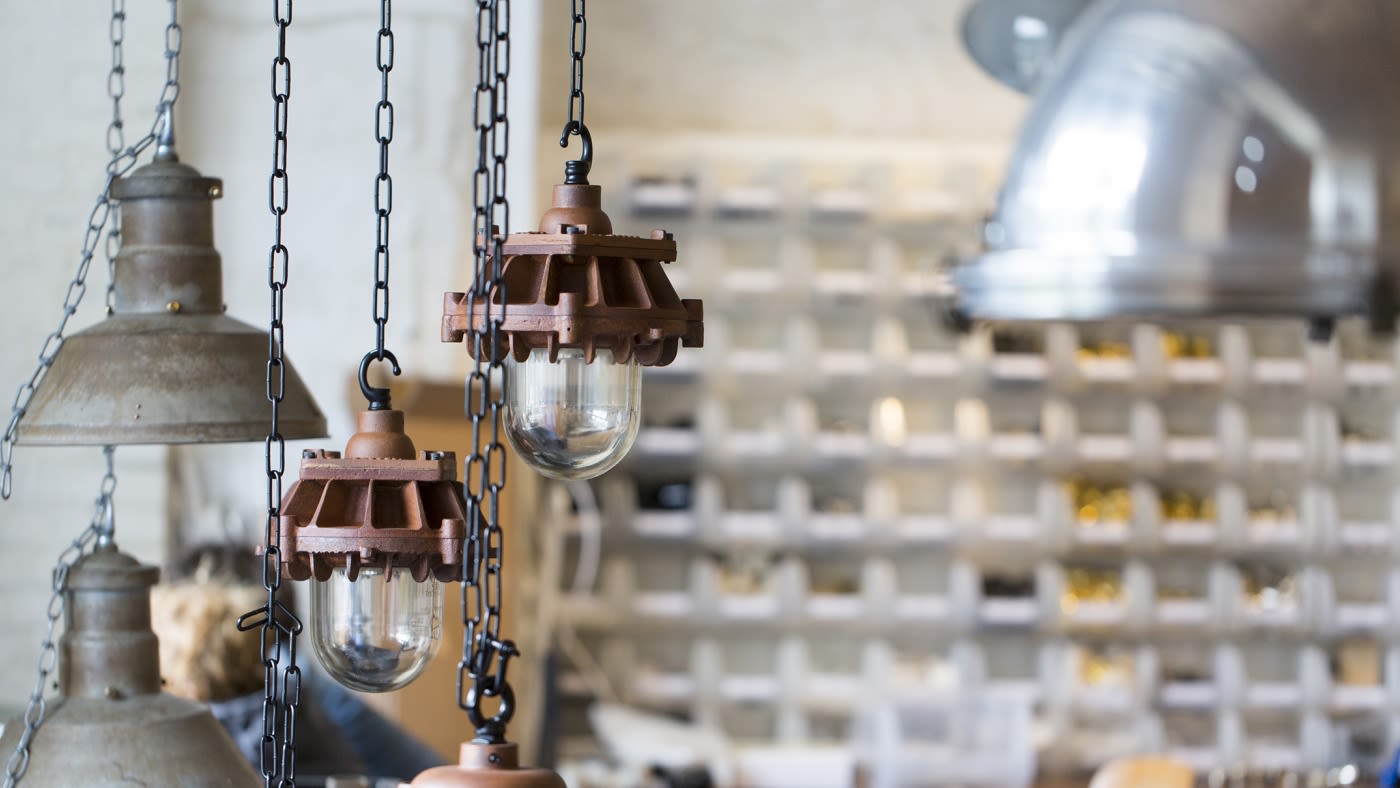 A day in the life of... the skinflint workshop
With hundreds of original, antique and often unique lights to research, restore, reassemble and send across the world, it's fair to say that no two days at skinflint are ever the same. We take ten minutes with the workshop team and find out why there's no such thing as a typical day in 'the office' at skinflint.

9am
Whether it's a customer purchasing a light for their kitchen, or an interior design studio hunting out the feature lighting for a large-scale commercial project, at skinflint we work with clients globally, shipping our restored vintage lights from our wharfside warehouse in Penryn across the world. So we begin each day checking the previous day's orders and ensuring each one is safely handed to our couriers. Working with lights that are in some cases nearly 100 years old and have undergone months of restoration requires a steady pair of hands. Before shipping each light is carefully wrapped and packed complete with its own installation kit and instructions.
10.30am
The lights we work with at skinflint are salvaged from across Britain and Europe by company directors Chris and Sophie. Restoring them is a meticulous and lengthy process often taking many months. The workshop team begin by gently disassembling each light-fitting into its individual parts; spotting any differences, planning how best to restore it whilst retaining its individual character, and bringing it up to modern electrical standards. With new products released onto the website every week, Andy our workshop manager runs a tight ship. Disassembling, cleaning, polishing, reassembling and working with numerous sub-contracted specialists… the workshop is a hive of activity with hundreds of moving parts, usually powered by plenty of tea and a good podcast (or three).
12pm
Shipping vintage lighting internationally is a job requiring Tetris-puzzle-like skills; calculating the dimensions of various products and boxes, once this is worked out we work with the sales team to ensure all the products are sent safely and efficiently to their destinations. 1pm Lunch is often taken in our breakout area in the studio or maybe in one of the local coffee shops - it the weather is good it might even be followed by a walk along the estuary in Penryn.
2pm
We're a creative bunch at skinflint and the workshop is no exception. Everyone enjoys getting involved in creating media assets for the marketing team. Everything from before-and-after shots of the surface patina of the lights, to our Lights Organised Neatly photography series, or time-lapse videos of the restoration process for our YouTube channel. We are even involved in designing our exhibition stand for high profile design shows such as Decorex. All ideas are welcome at skinflint.
3pm
We're extremely lucky at skinflint to have an onsite studio for photographing the majority of our product and lifestyle photography, so once the colours and styling for the next shoot have been confirmed, one of our regular workshop tasks is to ensure the sets are painted ready for shoots.
4pm
A quick round trip in the van to catch up with our team of local specialist subcontractors – all based within 10km of our studio. Each light we restore has its own individual restoration requirements and here in Penryn we are blessed with a diverse range of specialists in many different restoration techniques - often transferable from the local ship building industry - from aqua blasting and powder-coating to polishing and linishing. Finally, we reassemble the light in our onsite workshop with brand new electrical components. Then it goes to the studio team to be fully researched (we always collect as much information as we possibly can about any light's origins, design and individual history), photographed and then listed on the website catalogue before becoming available to purchase.
5pm
A good work-life balance is important to us all at skinflint. So 99 times out of hundred, home time at skinflint means home time.