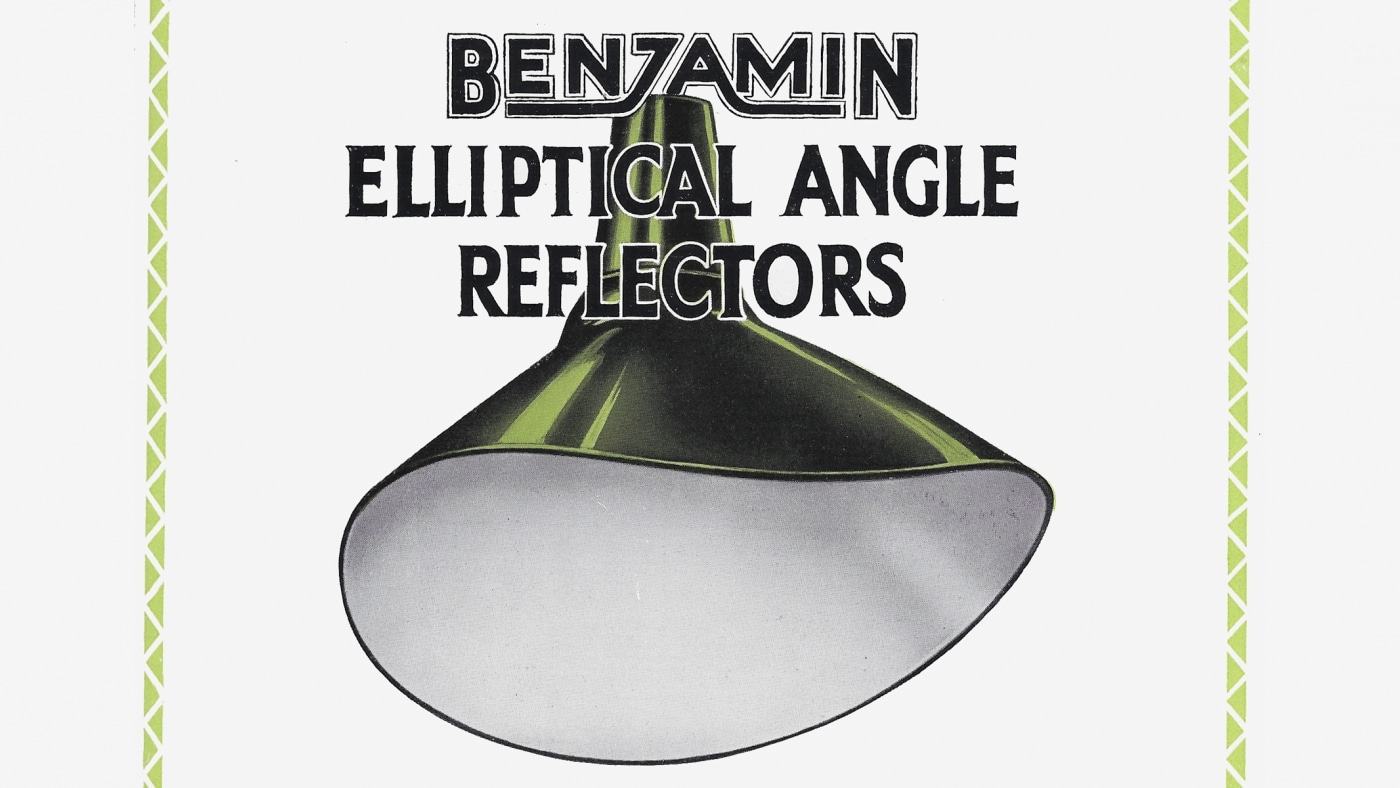 A history of angled ceiling lights
Much more than a quirky design aesthetic, angled enamel lamp shades were originally designed to illuminate signs, shop windows and industrial workspaces of an increasingly urbanised early twentieth-century Britain - as this trip into our archive material illustrates.
Nearly all of the angled pendant lighting we salvage and restore here at skinflint was manufactured by the big lighting British brands of the time between 1920-1960, including Benjamin, REVO, Thorlux, Simplex and AEI. Green, grey and white enamelled angled pendants were the favoured designs of the time. The ones that we've refurbished over the years have been salvaged from industrial sites and factories across the UK's industrial heartlands, including RMJ architect's famous Cockenzie power station and the home of the jet engine, Pyestock.
As electrical light became more mainstream in public areas and workplaces, awareness was also raised amongst business owners as to the importance of 'good' lighting; that is, lighting that wasn't overly glarey and uncomfortable for workers, and that better lighting could also improve productivity.
Elsewhere, business owners acknowledged that considered lighting could help to emphasise and enhance products on display in shops. Angled shades were used to provide directional lighting to illuminate walls, shelving or focal points inside shops and shop windows. As well as being aesthetically pleasing, designs came in a variety of colours but could also feature a contrasting white underside to the shade allowing for greater reflection of light.
Meanwhile, factory bosses employed the use of angled pendants to divert machinery away from the eyes of workers and onto the machinery that was supposed to be lit. With light concentrated in the right places, fewer lights were required, saving money in the long-term for factory owners. They were used in many industries including mills and foundries where lighting cables needed to be neatly kept away from heavy moving machinery.
Occasionally we pick up elliptical angled shades. As well as the heavy flux of light created from reflectors that were also a feature of these shades, the elliptical shape provided a wide distribution of horizontal light while building up the illumination 'in between' each light. With an elliptical angle there is a much more even distribution of light over the surface making it perfect for billboards, signs, posters and shop windows as seen here.
Today, with these original vintage lights meticulously restored by our team of experts here at skinflint, the lights are still in use in a wide variety of settings. This includes bedside tables where the light can be directed away from the bed towards the wall to offer a more subdued light at night, or commercial settings as we do here, in the skinflint office, where they are used to illuminate wall display boards. We particularly like the way the lights cast a striking arc of light and shadow against the wall.
Explore our angled lighting collection.