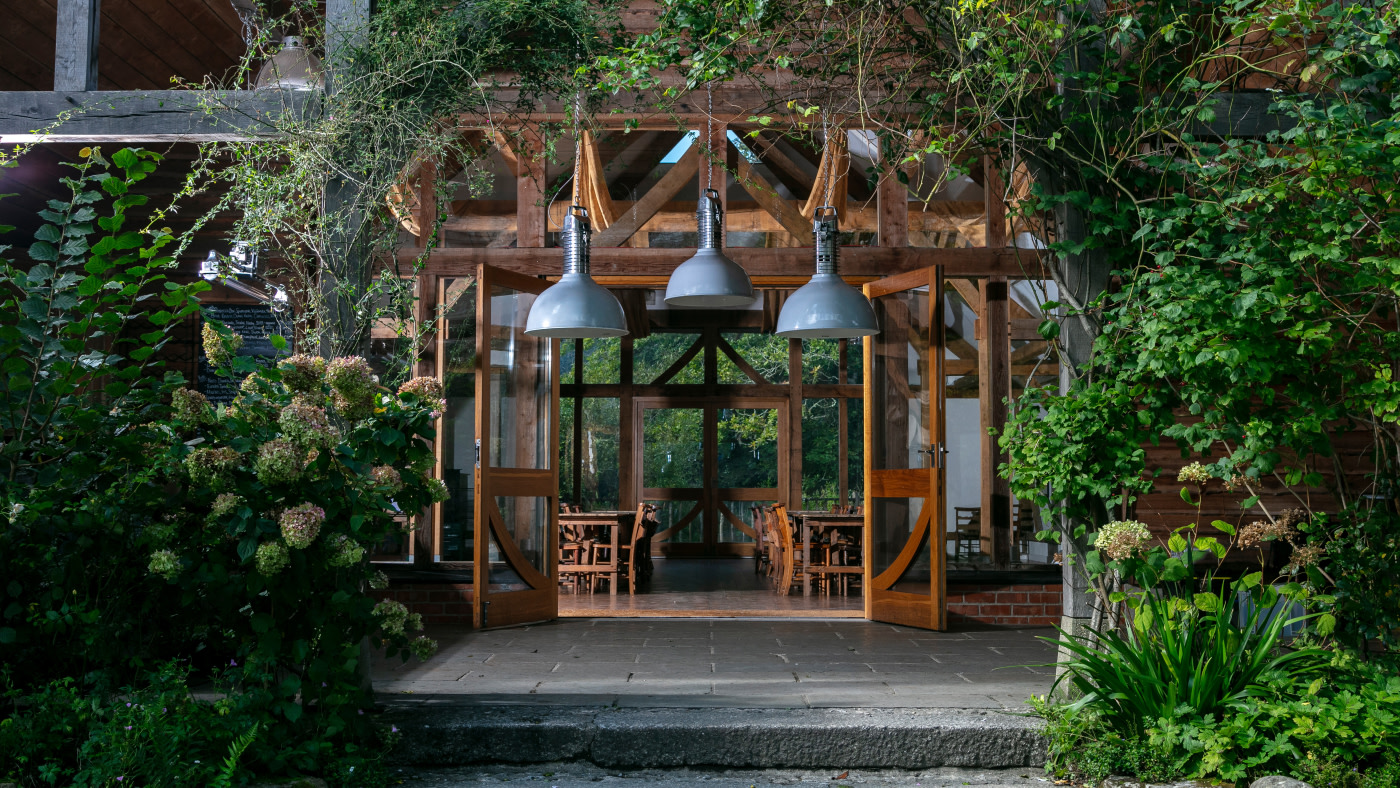 Make An Entrance with vintage lighting
Whether you're designing a vast atrium or an enclosed porch, create an entrance worth shouting about with vintage lighting made to last. Enter our new and specially curated collection, featuring vintage lights that literally and figuratively Make An Entrance.
A fabulous first impression
The first chapter of a book, the opening bar of a song… First impressions are everything. A considered entranceway, either at home or in a commercial setting, builds anticipation for what's to come, defining the personality of the rest of the interior. The most liminal yet, arguably, one of the most important spaces, they are often overlooked - becoming permanent homes to piles of shoes or, at the other end of the spectrum, large and echoey lobbies devoid of soul (that even a strategically placed plant can't save).
A delicate interplay between function and form, practicality and impact, illuminating whilst creating atmosphere and harmony, lighting plays a pivotal role in setting the scene in halls and entryways. From the 1970s Czech hotel chandelier (pictured above) whose striking silhouette will stop passersby in their tracks, to more small and subtle options like wall lights, choosing the right vintage light can make or break a space.
Practically perfect
Practicality doesn't have to be boring. With considered lighting and furniture choices, an entrance can be much more than a place to hang your hat. Often challenging areas to design, vintage lighting can elevate entrances in several ways. Providing you have the ceiling height, spaces of the long, dark and narrow variety lend themselves to being adorned with pendants and smaller chandeliers. Decorative pieces like this 1970s retro Czech chandelier bring bright illumination and decorative design to transform a dreary doorway into a dazzling one.
Low-ceilinged cottages or pubs come with a different set of challenges when it comes to illumination. If you're short on floor space, enclosed spaces are a wall light's best friend. G.E.C prismatic ceiling lights have a low profile and a bright glow that guides guests across the threshold. Arranged in rows on a wall or ceiling, these understated lights pack a visual punch with their original prismatic glass lenses and lead people towards the main event inside.
Wall lights are also perfect for tucking into small nooks or seating areas by a door, providing ambience and ample light. Whether waiting to be seated or for everyone to get their shoes on, vintage lighting can transform a mundane foyer into a place you're happy to linger in.
Don't forget other interior design tricks when looking to create a first impression with impact. A statement mirror can have a transformative effect, opening up cramped or narrow areas and making them feel bigger than they are. The addition of wall lights either side of a mirror can also add dimension and well-needed task lighting, ideal for those last-minute outfit checks!
Enticing illumination
As the nights draw in, lighting is crucial to create a warm and inviting atmosphere to lure you in from the dark and cold. The alluring glow of a statement pendant can provide a welcoming sanctuary from the elements after a long day out.
A stand-out piece, like the Art Deco design of this 1930s Czech tiered opal hallway light, pictured above, can do all the talking in an interior. Opaline lighting is a go-to choice when looking to create atmosphere and ambience. The smooth texture and strong silhouette of milky glass is striking against busy backgrounds or patterned wallpaper and tiling. Even the most simple of opaline designs, such as the timeless style of the Vintage Czech opaline globes adorned in an entranceway can make interiors pop with simple sophistication with impact.
If space is too limited for one large piece, try grouping smaller pieces in clusters to create a unique feature. This way, you can reap the benefits of a larger chandelier without an imposing footprint. The decorative 1960s moulded Czech glass pendants are steeped in the ancient tradition of Bohemian crystal and pack a visual punch, elevating smaller surroundings with an artistic flair sure to draw people in.
Strength in numbers
If you have a larger area to play with, consider the size and scale of your chosen lights in relation to the wider space so they don't get lost in the rafters. With a strong heritage to match their strong silhouette, industrial shades such as these XL British Factory Pendants were originally produced for the cavernous factory ceilings of the 1950s post-WWII industrial boom. In large spaces and atriums, they work together to frame a room, resulting in practical illumination and visual impact.
Suspended uniformly or at various heights to achieve depth and texture, pieces such as our Eastern Bloc industrial pendants or even a plethora of opaline globes, can come together to form a sculpture within a space.
No room left behind
Making an entrance isn't strictly confined to where you literally enter a space. All rooms should have the same impact as the first one you enter. If porches and lobbies build anticipation, each interior in a venue should live up to that expectation.
No stranger to sweeping halls, these XL Polish industrial pendants and XL Eastern Bloc industrial lighting once illuminated Eastern Bloc factories during the Cold War and have an imposing air about them. Layering different industrial pendants (as seen below) can add depth to a room, working together to provide dramatic impact whilst serving up practical downlighting.
As well as creating visual impact and more focused illumination, pendants suspended low down from high ceilings create a more snug environment and soften the acoustics in wide open spaces, muffling the sound of large crowds and clinking dishes.
Lead the way
If you're considering the physical journey of customers through a space, lighting can work to lead them in a particular direction. Take for instance a check-in desk or bar. These are often the first and last places visited, and as such they need to be clearly defined. Other than providing practical illumination, rows of cut-glass pendants or larger statement lights suspended over a bar or counter can do the trick, naturally lead the eye to this spot.
Consider the amount of light required to illuminate a task-oriented space such as a host station or busy bar. The white enamelled shade of the Industrial LED light by Benjamin works to channel and reflect light directly down to brightly illuminate tills and drinks being made below.
Conversely, if you're looking for both ambient and task lighting, linear lights without a shade, such as our 1960s Czech linear pendant or XL 1940s industrial linear lights by REVO, cast illumination in a 360-degree direction. Placed lengthways down a corridor or even sitting flush against a door frame can signpost users in that direction, whether that's to the entrance of the bar or the powder room.
Explore our new Make An Entrance collection of vintage lights.