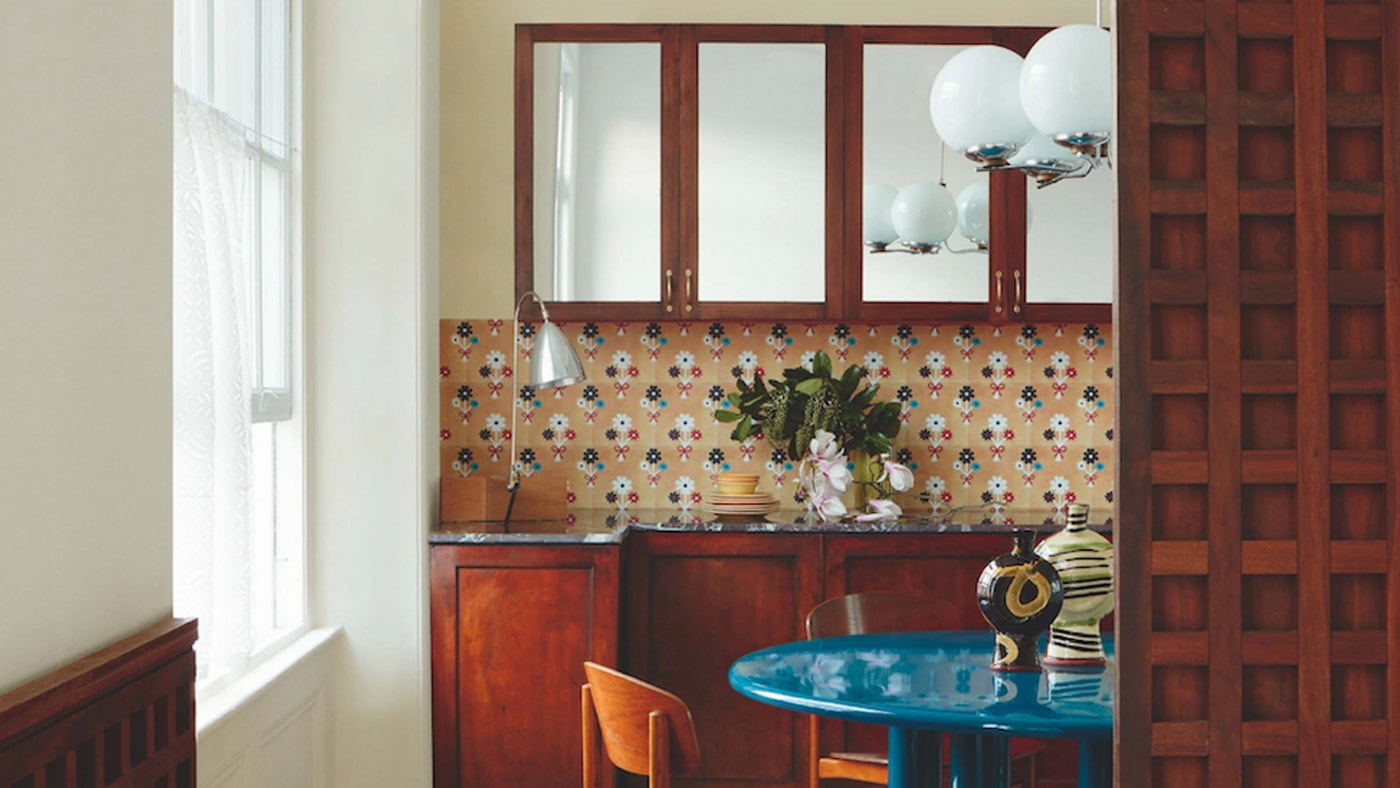 How to create the mid-century modern look
Above: One of our vintage Czech glass chandeliers, as seen in House & Garden. Credit: Yuki Sugiura.
Clean simple lines, high functionality and timeless design - mid-century modern came to the fore between 1930-1970 and with enduring popularity continues to captivate today. Known for juxtaposing beauty with practicality, mid-century modern design brings together a melange of colours, textures and form, creating a unique and much sought after look. With a keen focus on reliability and products designed and made to last, it remains a favourite style of our clients as well as our own lighting and styling team, aligning with our focus on sustainability and timeless design. Coinciding with the launch of our mid-century lighting collection, we find out more...
Above: A 1960's British Counterbalance light by Horstmann fitted to a mid-century console desk at Lyles Restaurant, London. Explore more vintage machinist and anglepoise lights here.
Where did it all begin?
The mid-century modern movement began in the United States and was heavily influenced by earlier European styles such as Danish modernism and German Bauhaus. Though originating in the late 1930s, the movement was popularised in the 1940s after the Second World War when the demand for city and suburb expansions brought the rapid rise of homeownership. There was a call for modern furnishings to complement the newly mass-built homes. Furnishings had to be beautiful and sleek to match the American dream, but they also had to be functional and efficient for the everyday family. Plus, with technological advances there were new materials, textures, colours and forms for designers to play with.
Who were the pioneers?
The design movement paved the way for talented American architects and designers such as Charles and Ray Eames, creators of the Eames Lounge Chair and matching Ottoman, Florence Knoll, who along with her husband founded the famed Knoll company, and George Nelson, known for his trademark Bubble Lamp and Marshmallow Sofa. As the mid-century modern look was highly based on previous European designs, it was no surprise that Europe produced some of the movement's most talented designers, including Arne Jacobsen, inventor of the iconic Egg Chair and who also worked as an architect on the Royal Hotel in Copenhagen, Eero Saarinen, who created the Tulip and Womb Chair, and Eileen Gray, famous for her chrome, steel and leather Bibendum Chair.
Credit: House & Garden photography by Yuki Sugiura.
How to create the mid-century look in three steps:
1. Create contrasts
So, how can you create the mid-century look at home? We've taken note of stylists continuing the mid-century theme of contrasting materials, such as dark hardwood with chrome detailing, into their interiors. Similarly, rich dark tones along with clean lines can be easily incorporated into kitchens, dining rooms and office settings. By using white opaline glassware you can create a striking contrast - as seen with our vintage Czech glass chandelier (above) in Gabby Deeming and Ruth Sleightholme's bespoke kitchen for House & Garden magazine. For living rooms and bedrooms, which often incorporate lots of soft shapes and forms, balancing the design with straight, defined lines can elevate the space. You can achieve this using coffee tables and sideboards but also with uniquely shaped lights such as our collector's vintage sputnik chandelier or our 1950s angled glass pendants salvaged from a hotel lobby in Prague, Czechoslovakia.
2. Highlight organic shapes
Just like straight lines, uncomplicated and organic shapes also play their part within the mid-century modern look. Curved forms are ideal for rounding-off designs and softening a space, practical for residential homes and recreational spaces. This can be achieved through iconic mid-century modern pieces such as the Egg or Bubble Chair as well as large globe pendant lights and round or wavy sconces, such as our 1960s Czech wall light.
Above: One of our 1950s British Textile Mill enamel pendant lights alongside Mini-Moderns Pavilion patterned wallpaper and cushion.
3. Play with colours and patterns
Colours play an interesting role in the mid-century modern look, and there are a plethora of tones and patterns to choose from. Bold and bright colours were classic to the Scandivanian mid-century modern design, as can be seen with our trio of mid century teardrop pendants, and can make a bold statement against a balck and white palette. Cool accents, such as pastels and greys, are frequently used against muted motif patterns to provide a playful contrast to a space. This can be seen with our British textile mill pendant (above), providing a fun divergence to the mustard yellow colour scheme.
Win! Enter our mid-century modern giveaway for the chance to win one of our British Textile Mill enamel pendant lights and one of two signed copies of Mini Moderns' book 'Mid-Century Modern Living: The Mini Moderns Guide to Pattern & Style.