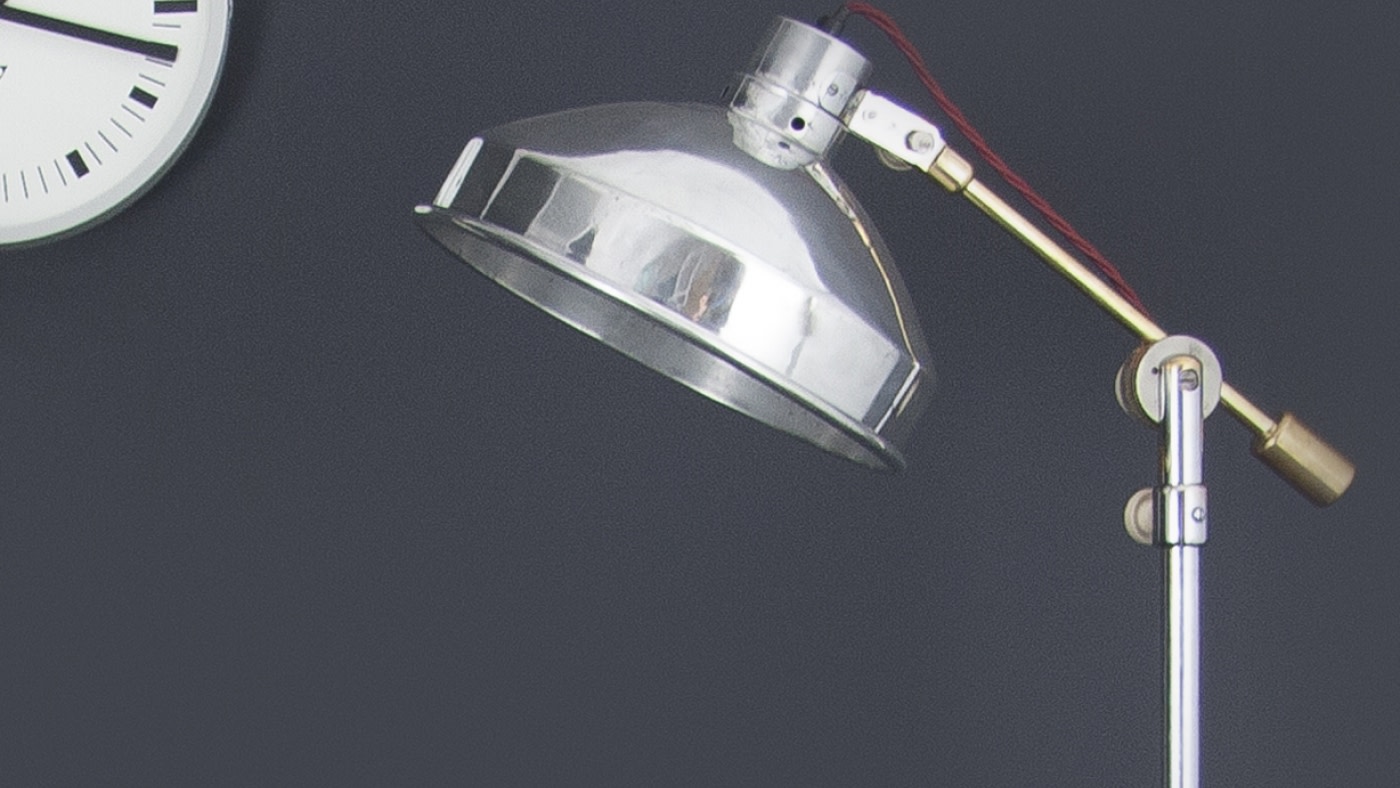 How to Buy Vintage Lighting
Posted by:

Kate Watson Smyth & skinflint
People often come to us for advice about purchasing vintage lighting. So when Kate Watson Smyth of the excellent blog Mad About The House came in with a number of questions we put our heads together and came up with answers to her questions:

What should you look out for when buying a vintage light?
If you are buying from a reputable dealer then purchasing a vintage light is no different from buying any other light. You should study the various brands (we have information about these on our site) as well as the different types (bulkhead, machinist, ceiling light or wall light). Then you need to think about where you intend to put the light and what purpose it will serve. Is it for show, for work or the main room light? Once you are clear about that you can look for something you like.
Can you assume it will have been rewired?
This depends on where you buy your lighting from. All the lights we sell are completely rewired and refurbished for modern use and fitted with appropriate lamp holders for the country we send them to, and most reputable online dealers will do the same. It's always worth checking though as not everyone has the same rigorous checks and safety considerations we at skinflint do.
Can't I just change the plug for one that fits my socket?
In short, no! You cannot simply change the plug on a vintage desk light and plug it in... Desk lights are actually some of the most complicated products we sell and there are lots that are offered to us to purchase which are simply too complex a rewire for us to undertake. We've all heard stories of people purchasing vintage desk lights at car boot sales, going home and plugging them in only to blow the circuits in their home. Or worse. When you buy a light that's ready to plug-in from a dealer it should come PAT tested and labeled to say it has been tested- all our skinflint ones do.
Should you ever walk away from a vintage light?
Not if it's a light you love and you are buying from a reputable company, but if you are thinking of trawling car-boot sales or looking in your grandparents shed for a vintage light and you aren't on exceptionally good terms with a very friendly electrician then yes, absolutely. Walk away. It will either prove to be a costly project or (if you don't do a professional job) a potentially dangerous one.
What about bulbs? Can I just stick one in that fits? Do vintage lights have fuses?
All our lights are rewired to take modern bulbs so it's no different to putting a bulb in any other light - you should never put a bulb in a vintage fitting unless it has been tested and checked by a qualified electrician. Modern bulbs are far better than old ones, they have an excellent lamp-life, a great colour temperature (the tone of light they give off) and are better for the environment. We have more information about light bulbs here >>
Anything collectible we should be looking out for at the moment?
Glassware is very collectible and a stylish addition to a home, with regard to desk lights we particularly love machinist lights, they are incredibly elegant, well designed and engineered to perfection... They illuminated lathes and workbenches almost a century ago and now, refurbished, they'll last another 100 as task lighting or bedside lights.
What are your favourite vintage lights?
Salvaged Ex Military Runway light, this is currently available as part of our skinflint for Heal's collection in their Tottenham Court Road store is a really rare piece of history from the 1949's and we have some great images of the light in use.
We also have some gorgeous ribbed glass orbs from the Czech Republic circa 1960. I love the detailing and stylish simple elegance of these lights.
As a general light I'm a big fan of machinist lights, easy to position with their integral articulation they're a great all-rounder in every space.
Are vintage lights better than modern ones?
In our opinion yes, vintage lighting is superior. The lights we sell were built to last, in the days before planned obsolescence or the idea of throwing something away because it's no longer on-trend had entered consciousness. The styles are classic, enduring and perfectly compliment a modern interior.
View our whole collection of Vintage Lighting here >>