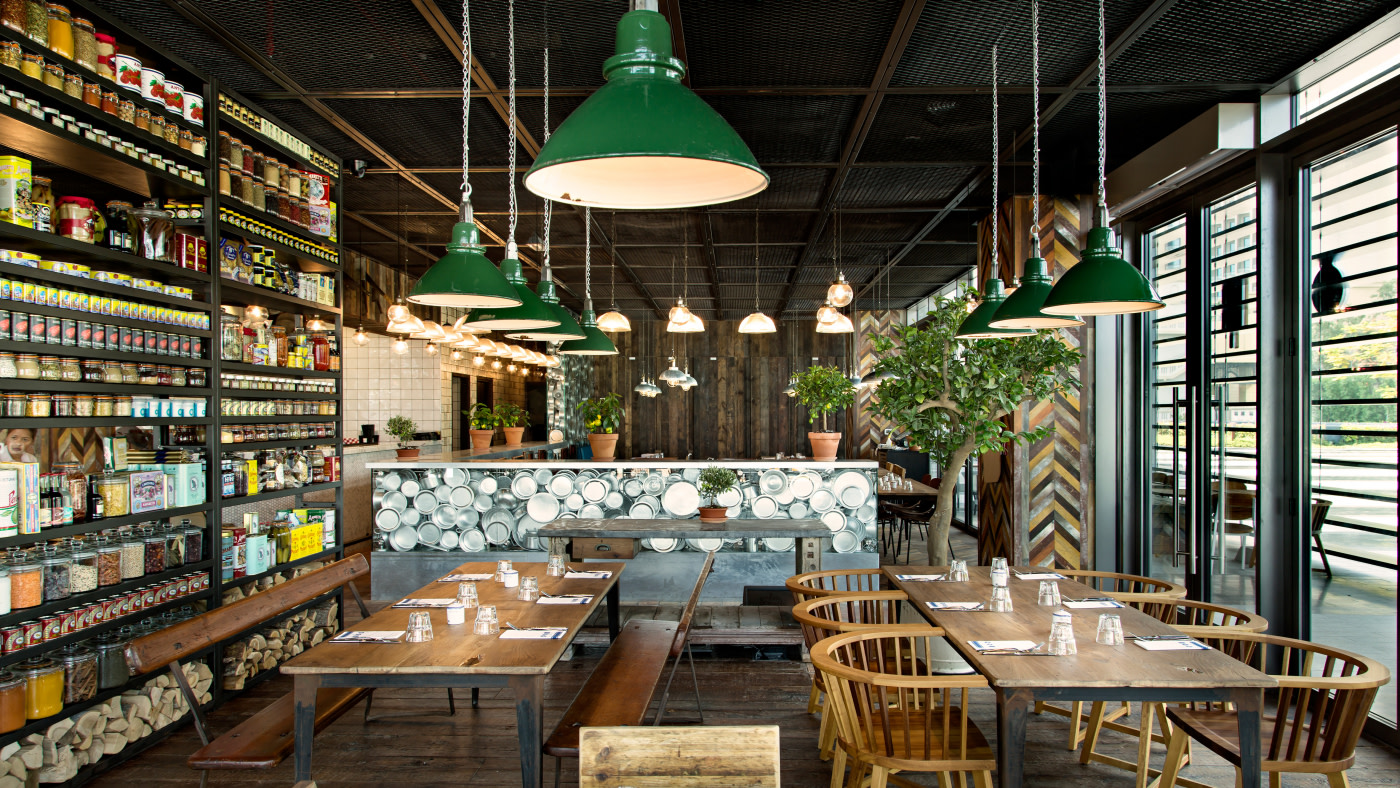 Creative ways with vintage enamel pendant lights
What started as a humble functional design has today become a lighting icon, and vintage enamel light shades remain as popular now as when they were first produced nearly a century ago. Not only are the lights we salvage and restore unique pieces of lighting history, they are also incredibly versatile for a variety of interiors at home or on commercial projects.
Over the years, all of us on the skinflint team have come across many innovative ways to install enamel pendant lights for maximum impact. Whether hanging singularly, playing with multiple lights in rows and clusters, or looking to make a statement with different flex colours and suspension methods, we have picked our favourite ways to get creative with the vintage lighting classic.
Hang lights at asymmetric heights
Unlike suspending lights in neat rows above kitchen islands and dining tables to provide illumination, experiment with hanging enamel pendant lights at varying asymmetric levels to add visual interest. As seen here in Livingetc in the home of artist Lisa Giles, these vintage green enamel light shades have been suspended from the high ceilings of this sunroom to provide illumination for the coffee table below, drawing the eye down and making the seating area a focal point of the room. Hanging vintage lights at a lower eye-level like this also means that the unique surface patina found on authentic vintage lights can be admired in detail.
Photography credit: Livingetc Magazine
Play with different suspension configurations
The enamel light shades you'll find in our collections would have once illuminated the factory floors and workbenches of workers in the early-to-mid 20th Century, and they typically would have been simply suspended vertically from the ceiling. Today, there is no shortage of ways you can choose to suspend your fixture. If you're unable to move the mains supply for the pendant light in your room, hooks can be used on both walls and ceilings so that - providing the length is long enough - the flex can be playfully run from the ceiling mounting plate to your desired position.

Above: Six of skinflint's grey vintage enamel light shades by Revo are suspended from a single mounting plate in the middle of the main dining room at Tom Aiken's restaurant at Somerset House, with hooks positioning the lights as desired equally above each dining table.
Alternatively, if you're able to consult your electrician and be flexible with where the mains supply for the light will enter the room, discuss different placements of your ceiling mounting plate. For instance, a dual ceiling plate in the middle of a bedroom with the flex running to a hook above each bedside table is an interesting way to provide illumination and create a feature within the room. Pulleys can also be installed on the flex, meaning you have the flexibility to move the position of your light up and down to best suit the task at hand.
Above: A vintage 1930s R.A.F. hanger pendant provides task lighting above an armchair in one of the hotel rooms at Artist Residence, London.
Use different coloured flex

At skinflint, wherever possible we like to stay true to the original design of each light in respect to its authentic heritage and age, and we match the colour of flex to complement accordingly. However we are happy to source various colour cable depending on the look that you're going for - please just ask. We love the example from Artist Residence above, and this from Sam's Kitchen and Deli below, where different contrasting coloured flex adds interest in the space. We also like the use of excessive lengths of flex to create an eye-catching feature in what is otherwise a simple industrial aesthetic. You can find similar vintage white enamel light shades here.
Above: Sam's Deli and Kitchen in Bath combines contrasting cable colour, length and suspension configurations to create a unique look. Photograph by @caroline.davis.stylist on Instagram.
Create a statement

One of the most statement-making light installations we've been involved can be found spanning the mezzanine and stairwell of the Cleaver Bar & Grill in Oxford, below. Here, combining a large cluster of pendant lights, including angled enamel shades as well as other vintage pieces from our range, has been used to dramatic effect. A similar enormous installation recently caught our eye at Urban Outfitters' flagship London store on Oxford Street, where various enamel shades are installed together at differing angles along a vertical structure spanning several floors in the entranceway.
Above: An eclectic mix of skinflint pendants at Cleaver, Oxford, as designed by Moxon Design.

Sometimes simplicity is best

With all that said, some of our favourite projects involving vintage enamel pendant lights have been simple nuanced interpretations of the industrial classic. As featured in House & Garden magazine, clients Harding & Read used clever combinations of colour alongside three of our vintage Eastern Block factory shades above the kitchen island in this renovation of a classic Georgian townhouse on Bath's iconic Royal Crescent, below. You'll find these and lots more vintage black enamel lights in our online collection. The result is a serene and calming space which is at once respectful to the heritage of the building whilst being fresh and contemporary. Proof that industrial lights can work even the most traditional of settings.
Credit: Paul Massey for House & Garden.
Follow our Pinterest board for more creative ways with enamel pendant shades, or explore our complete collection of vintage enamel light shades online.