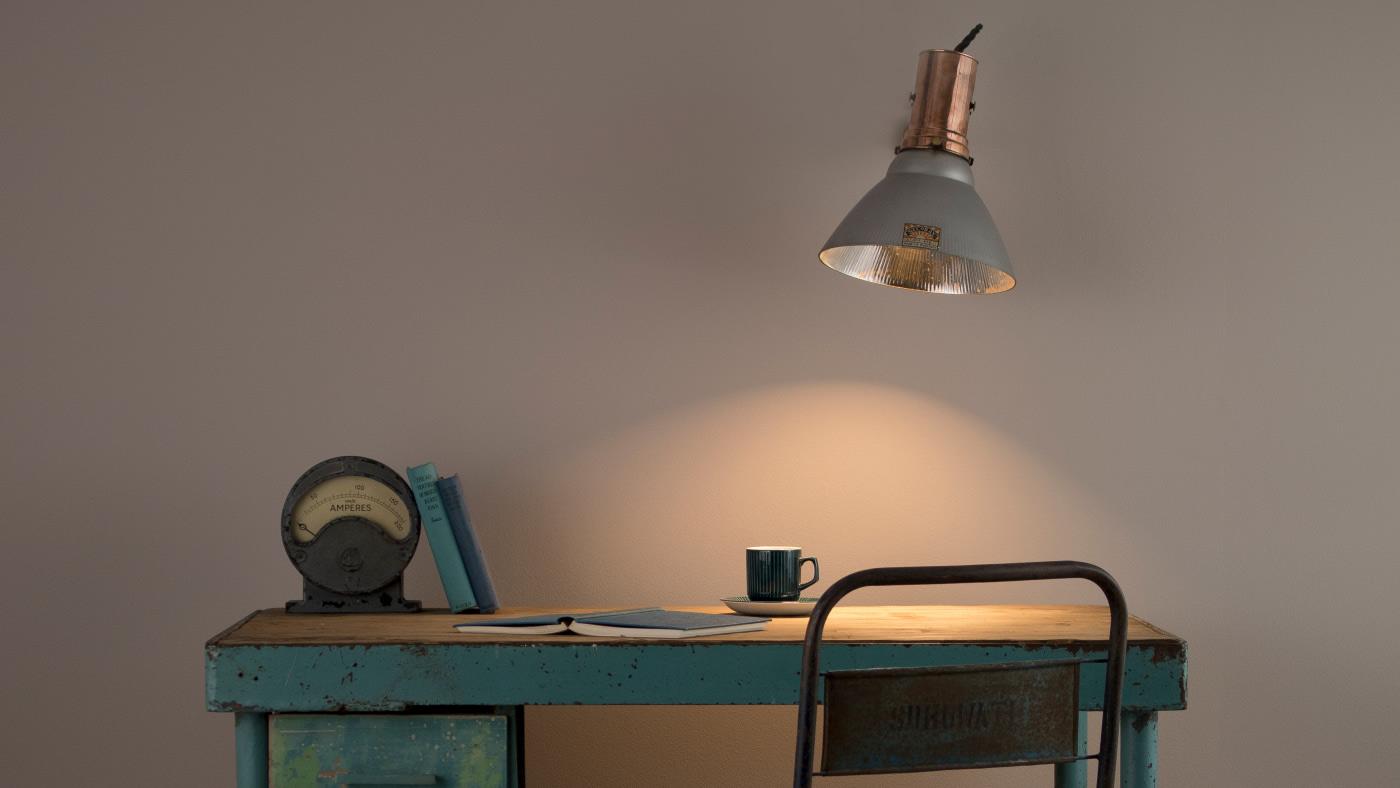 Creating zones at home using lighting
With the world's current situation, more and more of us are spending time together staying at home. If you're like us, our home is our sanctuary, and many houses aren't built around the concept of working, schooling, and exercising within the four walls of a house.
In order to maintain a healthy balance, dividing and separating work areas from relaxation spaces is of the utmost importance in aiding our wellbeing as well as the function and enjoyment of each room. A useful way to achieve this effect is the use of lighting to create zones within the home. Not only essential for improving mood and our resulting behaviour, lighting zones can also be beneficial for energy-saving by enabling us to illuminate areas in use with light appropriate to the purpose, and switching off certain zones when not in use.


Above: our 1930s German factory lights suspended above a kitchen island at Salisbury Road, London.
Kitchen spaces
Kitchens have a variety of functional requirements that ideally use different lighting zones. In food preparation and recipe reading areas, where downlighting is necessary, we suggest using open-bottom shades, such as vintage enamel pendants, opaline globes or our LED fluorescent linear lights, all of which offer a shadow-free workspace and illuminate your task at hand.
By making the lights above your island dimmable, you can also lower the brightness when food preparation time is over, providing a relaxed environment to socialise with friends and family. Kitchen worktops also need efficient functional illumination, however in these areas pendant lighting isn't usually an option. We often use anglepoise-style lights and positionable wall lights as solutions for feature lighting in these challenging areas.


Above: our E.D.L machinists work lights on the walls of the Arts & Crafts home renovation in Bedford.
Livingrooms
Whereas kitchens are generally brightly lit, our living areas are primarily used for recreational time and for relaxation. Soft diffused lighting, which can be achieved using opaline glass, is ideal for lighting living areas of all sizes. Visually, these lights work well suspended individually or even in a cluster. For more precision 'task' lighting, for focused activities such as reading and board games, light from floor lights and table lights helps create a space for you to lose yourself in. As floor and table lights are moveable, they can be used for a variety of practical tasks and activities within the living room and are easily used to separate and create zones.


Above: our Period Czechoslovakian lights featuring a ribbed glass globe with a spun brass gallery.
Study lighting
When it comes to focusing on tasks, a well-lit room is a must. And a home office or study area is no exception. With the use of moveable office lighting and desk lighting, it is easy to create brightly lit workspaces anywhere in the home to inspire concentration and focus during these times. Once work is over, physically switching off lighting can give us the mental switch-off we need in a home-working environment; transforming the space back into our homes and sanctuaries.
Need further advice on how to create zones at home using lighting? Get in touch with our lighting experts.