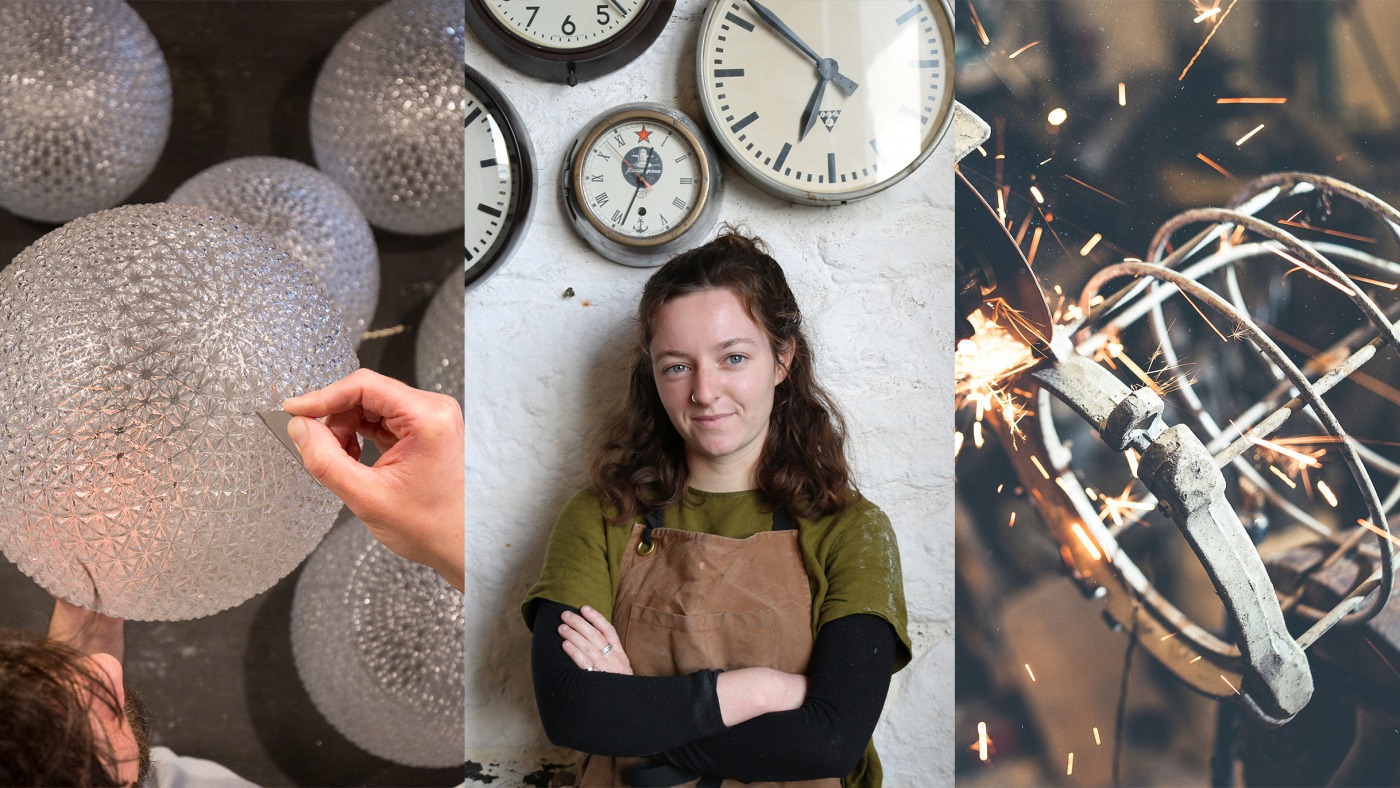 Behind the scenes: Rosy Seal, Product Development Engineer
Skinflint product development engineer Rosy Seal recently spoke to KBB Magazine for the January issue about the skill, patience, and hours of work that go into restoring our vintage lights.
Before work…
I'm very fortunate to work with an environmentally conscious business here in Cornwall and be able to walk to our workshop and studios - a converted Victorian warehouse - on the water's edge of Falmouth Estuary. Not a bad work commute!
Once at work, what's the first thing you do?
I open up the windows that look out onto the river and get the sea breeze flowing in. Our workshop and studio teams then meet to discuss the day's tasks, what vintage lights are priority for restoration and dispatch, and any feedback we may have internally or externally from clients.
What are you responsible for in your job?
I'm part of a team responsible for restoring all of the vintage lights that we salvage from across the world. Some are one-off antique pieces of history (such as the WWII Royal Navy convoy searchlights I'm currently working on), while others might be large numbers of Czechoslovakian glassware ordered for production during the Communist Era. Every single light is restored back to its former glory and updated with energy-efficient technology such as LEDs so that they are ready for modern-day use. Like putting the pieces of a puzzle together, it's a meticulous process that can take many months.
Describe a typical day…
We never know what lights might arrive in the workshop, so no day is ever the same! One day I might be dismantling, reviewing and rebuilding hundreds of tiny components to see which can be kept or replaced (a process we often document on our social media channels), or working closely with our specialist local contractors, all based within a 10mile radius of our studios, to soda-blast severely degraded products the next. As part of our certification with the UK LIA (Lighting Industry Association), there is a lot of detailed work that goes into ensuring our lights are tested and refurbished to the highest possible standards suitable for use on high-profile projects around the world. As we're so hands-on with the lights, we also securely pack them for dispatch to make sure they arrive safely after all of that hard work.
What's the last thing you do before going home?
I usually leave the reassembly of our lights until the afternoon so that I can sit at the workbench with a podcast (we're currently loving Every Little Thing) and quietly put them back together. Fiddly jobs like this require attention to detail, a calm setting and a lot of patience.
How did get your job?
I graduated with a degree in Sustainable Product Design from Falmouth University in 2019 and skinflint was already on my radar. Learning more about the social, environmental and ethical aspects of design, the circular economy is an incredibly important concept in creating positive change in the world and human behaviour regarding consumption. I wanted to stay in Cornwall, and luckily this job came up.
Is there a particular skill you're glad you possess and why?
I'm fastidious and get totally engrossed in (what others might find) repetitive work, which is perfect for this role. I get stuck in and the hours just fly by.
What is your proudest moment at work?
I get great satisfaction seeing a set of lights come all the way through the restoration process: from when they first arrive in an often worn-out and dilapidated state, through to finally seeing them finished in-situ in high-end projects and glossy magazines. It always makes the hard work worthwhile, as does working with famous clients (sorry, we can't tell you who!).
What impresses people the most when you tell them what you do?
They love hearing the different stories behind the lights that we salvage, and are amazed that we deal solely in vintage items - we don't reproduce or manufacture anything new. We also recently launched our Full Circle buy-back scheme which takes this a step further - allowing people to trade in their skinflint vintage lights in exchange for credit towards their next purchase, thus keeping these beautiful lights in circulation for even longer.
Tell us about the weirdest thing that's ever happened at work...
We've salvaged lights from all sorts of weird and wonderful places. The enormous operating theatre light suspended in our showroom certainly makes an entrance when people first walk in!
What do you enjoy most about your job?
As a creative and maker at heart, I enjoy working with my hands the most. Something I get to do everyday restoring these beautiful lights.
How do you like to relax when at home?
I'm always learning new crafts and skills such as knitting or sewing. During lockdown I got involved with 'For The Love of Scrubs' project in the local community making hospital scrubs to alleviate the shortage of PPE in the NHS. I'm also excited to start a silver-smithing evening course at Cornwall College.
Finally, tell us which is your favourite vintage light from skinflint...
I love our various GECoRAY pieces such as the copper GECoRAY wall lights (pictured below) and these antique versions. They're from the early 1930s and were scientifically designed for the efficient illumination of shop window displays. Due the age of the lights, the internal mirrored glass is often beautifully 'foxed'.
Tell us your top one…

Food to cook?
Seafood (local, of course) linguine. I've also recently discovered paneer butter masala.

Household item you can't live without?
House plants. And my coffee percolator.

Way to spend a weekend?
Exploring quiet coves and beaches around Cornwall.