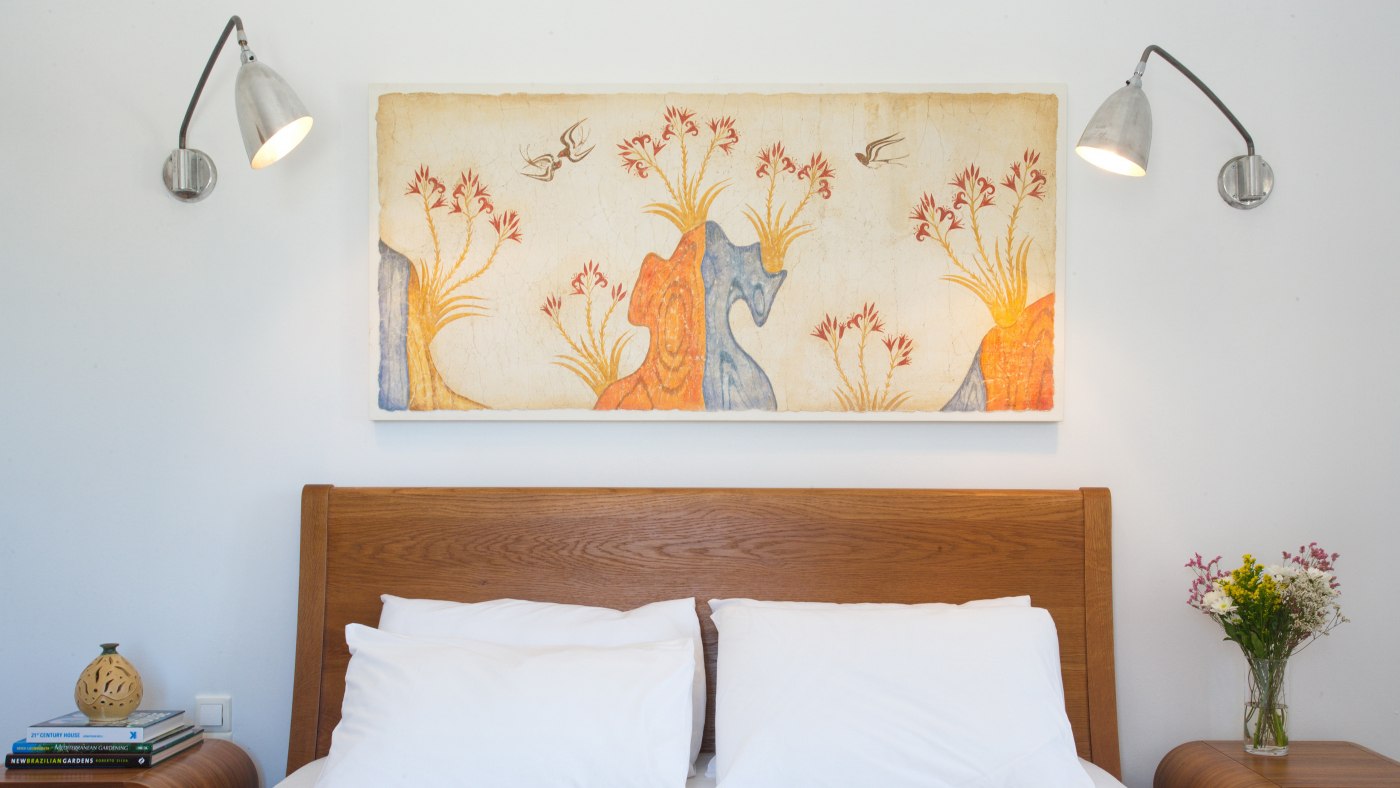 Above: Our Victorian asylumn wall lights in the bedroom of the Dome House in Greece.

Your bedroom, your way
Bedrooms are personal. For some, they're purely functional. They're the rooms we sleep in, wake up in, do our hair in and leave the door from, to start our day in the outside world. For others, bedrooms are a work-from-bedroom, shop-from-bedroom, gym-from-bedroom, and cinema-from-bedroom-room, a one-size-fits-all answer to modern-day living.
At skinflint, we see this cultural shift as an opportunity to craft our space, so all four walls are truly personalised corners of our worlds.
Crafting your bedroom work-space
Finding a work-from-home set-up that keeps you focused and alert throughout the day is within reach. When the caffeine wears off, and a lie down in bed is calling, keeping alert on video calls can be a challenge. But adding layers of light to your work from bedroom desk set-up can help your concentration levels. The addition of downward pendant lighting above your workspace can help in focusing your mind away from the contents of the fridge, back onto your 6pm video call.
Our Hungarian industrial factory light dating back to the 1940s.
For larger spaces, choose industrial-style enamel pendants giving downwards illumination over your desk area. For smaller spaces, consider angle-poised table lights, shifting the focus onto your laptop, books, or whatever else you might like to focus on.
Anglepoise lamps are ideal for task lighting, like our 1930s Zonalite table light.
Creating space to relax in
When the working day is done, switching off is never as easy for humans as it is for laptops. Unwinding can mean disappearing into a good book, or pushing aside a desk to create space for a yoga session. Achieving these mindful moments is easier with ambient, softer lighting.
For moments like these, consider introducing opaline pendant lighting for a soft, even glow over your make-shift yoga space, reading chair, or skype catch-up corner.
Many of our vintage pendants and wall lights can be seen throughout the bedrooms of various Artist Residence hotels, as seen above here.
For added warmth and ambience, consider pendants with prismatic or ribbed lenses, adding effortless depth and texture to your personal space.
Offering a stylish retro look is our cross-cut diamond Czechoslovakian pendant.
Turn it up
Weekends are precious. Lie ins, breakfast in bed and the lack of need to be anywhere, anytime soon are to be savoured. But for the mornings you need to be somewhere in a hurry, and you can't find your keys, or your phone, dimmable lights can provide a solution. Twist the switch up for added brightness, (to find your keys) then simply twist it back down and relax into the day.
Consider opaline surface-mounted wall, or ceiling fixtures with dimmable lamps, and keep in control of your bedroom's brightness.
To view our bedroom collection and see how you can craft your space with lighting, click here.