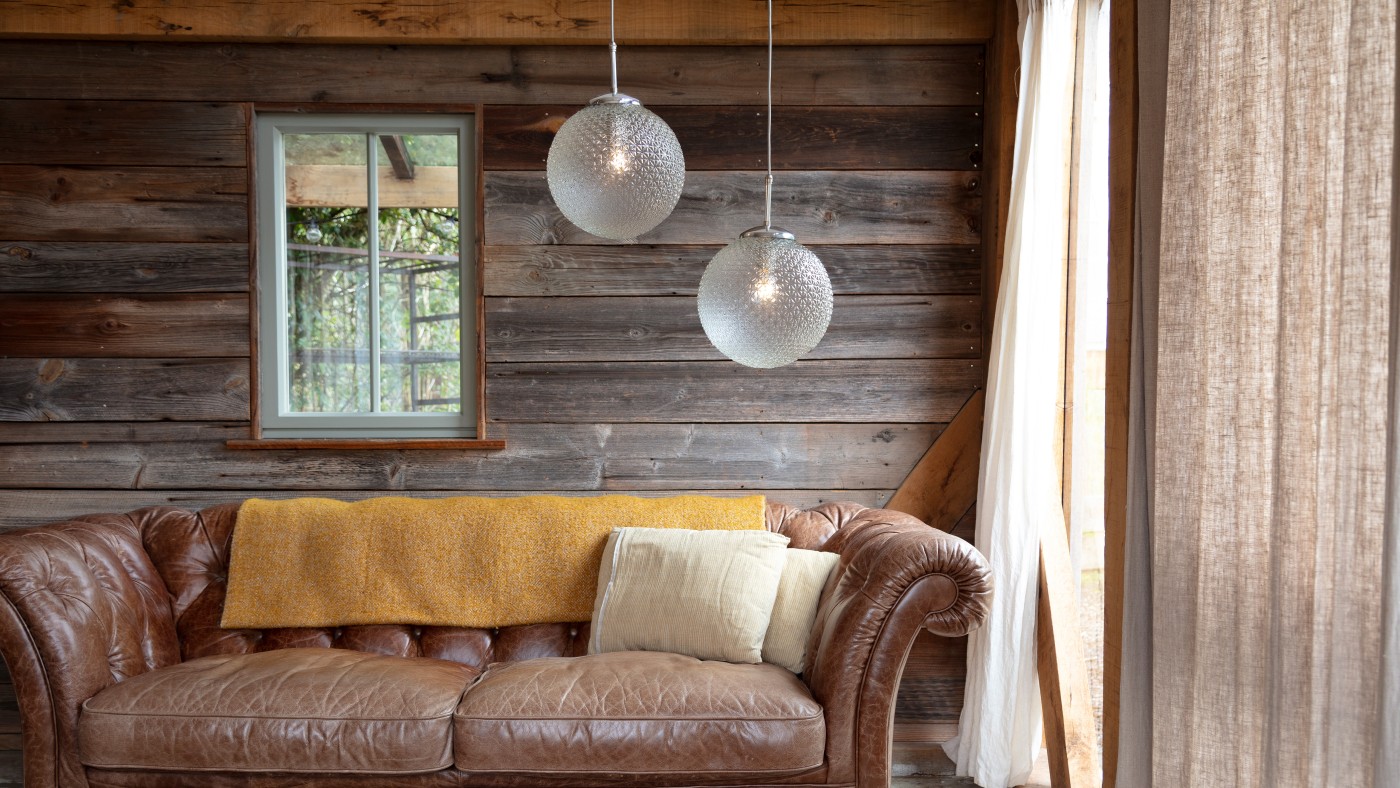 A Modern Lounge: Creating a room to entertain
A space to entertain, to socialise and most importantly to relax. Versatile lighting is the key to seamlessly transforming modern-day lounges to suit any occasion with a simple flick of the switch.
Whether it's a lavish dinner party or a cosy night in, let us guide you through how to use vintage lighting to create a multifunctional space with our new collection, The Lounge.
Zoning in (and zoning out)
Something we've spoken about before here at skinflint is the power of creating 'lighting zones' within your interior, and in an open-plan lounge this is most certainly the case. Whether you have a vast area to play with, or you're making the most out of a compact floor plan, the right lighting can work to either enhance a small room (and even make it appear bigger), or conversely make an expansive space feel more intimate. Creating separate zones with lighting gives you the ability to divide the room into smaller areas each with a dedicated purpose, function and atmosphere. And doing it with vintage can inject a real sense of personality into your space.
For instance, in a large open-plan living room and diner, the soft and ambient diffused light cast from cut-glass or opaline pendants like these Hungarian decorative globe lights can set a captivating and cosy mood for pre-drink aperitifs from your armchair and minibar. Then, when dinner is ready to be served, a row of suspended industrial pendants like our 1950s warehouse pendants above a dining table can fade on - signalling this is the time and place to come together to eat. Because is there really anything worse than bad lighting at the dinner table?
Planning these zones, and how you will control them, with your electrician is vital. Different zones need to be on separate lighting switches and dimmers so that you can set the lighting level and mood depending on the time of day or activity - or completely turn on/off areas depending on how you're utilising the space.
Luminous layers
Relying on a dimmer alone isn't enough when lighting diverse rooms. Combining lighting levels and layering different types of light is essential to transport you from your morning cuppa to your evening nightcap.
There are three types of lighting to consider when planning your space. The first is ambient or background lighting, which can help set the tone of the room. Are you after cosy and relaxing for watching evening TV, or bright and crisp for remote working? You might opt for spotlights or vintage pendants suspended high overhead for the former, and lower pendants with brighter bulbs for the latter.
The second is task lighting for when you need that extra bit of light on the task at hand. Adjustable pieces such as the Vintage Strand projector floor light are perfect for illuminating those nail-biting games of Poker or settling down with a good book.
The third, accent or mood lighting, is used to create atmosphere, influence mood and highlight certain features in a space. Think dimmable wall lights that are perfect for settling in for that all important late-afternoon nap, or angled pendants to show off your favourite piece of artwork.
Within these lighting types you can also layer different individual lights. For instance, pairing a floor light with an industrial pendant overhead such as these striking Eastern Bloc factory lights above allows for diverse layering with multiple functions - both task lighting for activities on the armchair and but also ambient for the wider room. For more direct and snug task lighting, the Vintage 1950s Radiaray desk lamp provides direct illumination, but it could also be used as an accent light to highlight a favourite decorative object on a side table. Meanwhile, versatile standalone pieces such as the 1950s Josef Hurka pendant can simultaneously work as task and ambient lighting, with its soft downlighting perfect for casting light on the armchair below and direct uplighting lighting the rest of the room.
Get creative with clusters
Lighting clusters are a fun way of adding theatre and drama in your lounge space - either as a conversation piece or a place to gather around. An underutilised dark corner can be transformed into a unique talking point for guests by suspending a group of pendants at asymmetric heights. Matching pendants can of course look great, but so too can a mixture of complimentary pendants to create a unique look that elevates a room.
Above, a cascading cluster draws the eye down to make that soft armchair feel even more inviting. These golden Retro Czech bubble pendants are warming with or without the lights turned on. Placed near a log burner their hue enhances the crackling fire when illuminated, and keeps the warmth in the room when the fire has gone out.
Conversely, the low profile of these G.E.C prismatic pendants are great for smaller spaces. They also work to create a delicate and dream-like scene when hung in a group, giving illumination to the sofa below and some pizzazz to your interior.
Transformative textures
Textures add depth and dimension to a space, and lounges are the perfect place to get creative with them, from leather sofas and luxurious velvet pillows, to brightly patterned wallpaper. But tactile decorative accessories aren't the only way to add texture. Thoughtful lighting choices can create a visual texture and keep a lounge from feeling one dimensional and flat. Mixing different lighting styles, choosing the right bulb temperature, and installing light sources at different levels all work to create texture through illumination. Placed well, lighting can be used to create depth and can lift a sleek and dark room or enhance the homely vibes of a rustic interior.
Illumination aside, the materials and silhouette of the lights themselves can also play an important textural role. From moulded glassware globes to worn industrial pieces, vintage lights bring an authentic patina and feel when you want the atmosphere to be warm and inviting, rather than sterile and austere. For instance, the soft brushed steel and ceramic finish of these 1950s steelworks pendants by Simplex, combined with their unusual industrial shape, contrasts with the rustic interior seen above.
Elsewhere, a patterned glass globe like the Retro spotted Czech pendants (V1) above can lift a plain painted wall or window, whilst the crisp silhouette of an opaline pendant such as our Decorative opaline Czech pendants will stand out against a busy wallpaper without feeling overwhelming. The lounge is the perfect space to get experimental with shape, texture and tone!
From delicate glass pendants to industrial floor lights, explore our new Lounge collection to diversify your lounge.