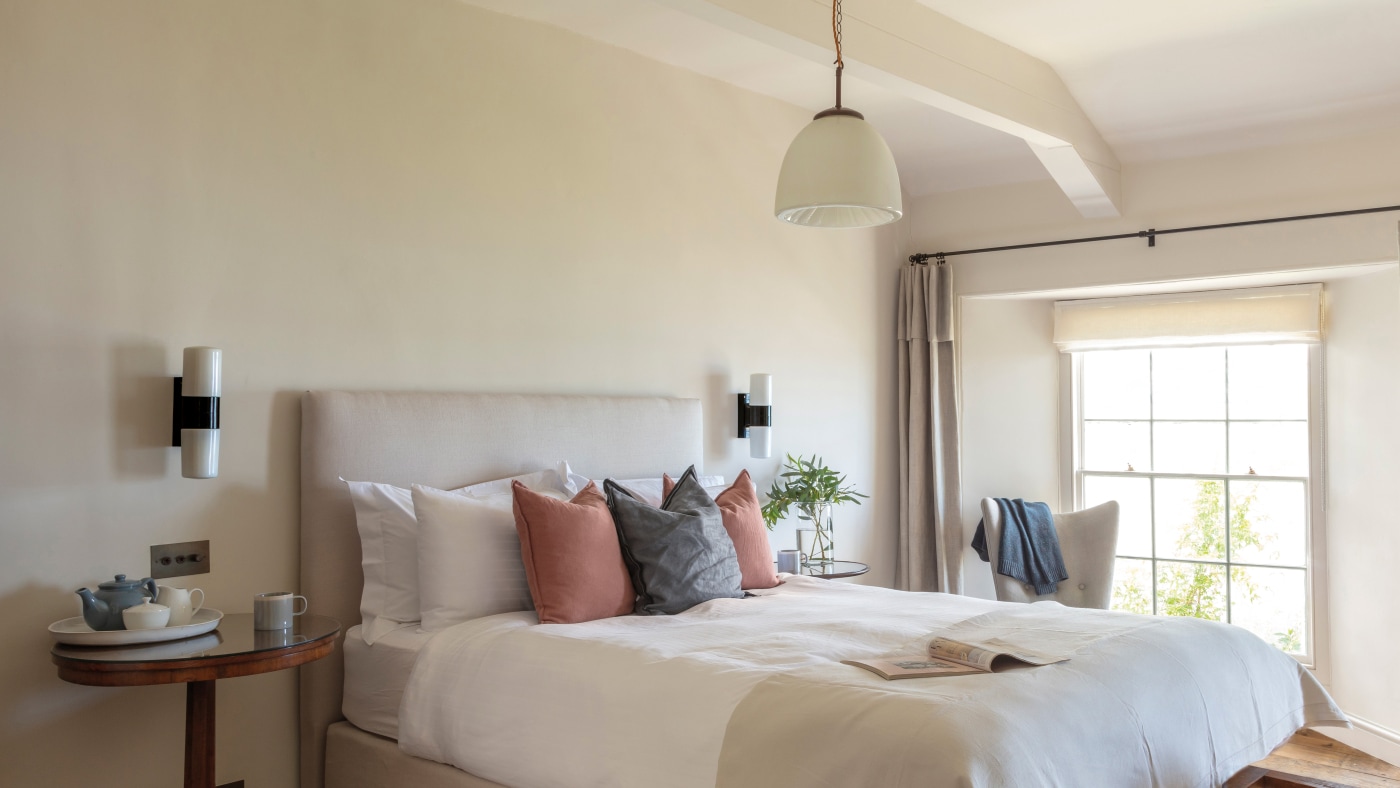 skinflint x Dodds & Shute: A sustainability match made in hotel heaven
We're so excited to announce a partnership with Dodds & Shute, the sustainable and design-led procurement team behind some of the UK's most socially and environmentally responsible hotels.
Born from a desire to create positive change in the design sector, Dodds & Shute have been busy calling for a shift away from new furniture and new lighting choices on large-scale commercial design projects. It embodies everything we're passionate about at skinflint too; from a shared mission to propel our industry to a more sustainable and responsible future, to a desire to create beautiful interiors, both inside, and out.
Without further ado, meet The Retreat Collection, a range of vintage lights curated specifically for hotel bedrooms, lounges, lobbies, restaurants, and entrances.
Relax, Unwind, Recoup
Let's begin our journey in the hotel bedroom, the ultimate relaxation zone. A good night's sleep is essential to any enjoyable hotel stay, and layered lighting can make or break the experience, and arguably the Tripadvisor rating... Pictured above, opaline pendants and retro wall lights bring soft illumination to help lure you into those all important 8 hours of shut-eye, and gently, wake you back up. Manufactured in former Czechoslovakia, the Double Headed retro opal wall lights started their journey in the 1970s, illuminating none-other than a hotel reception in Ostrava. Paired with a Decorative opaline pendant, also salvaged from former Czechoslovakia, the end result is soft, ambient and sophisticated, creating the perfect retreat.
Bohemian glass lights make a great addition to hotel bedrooms too. Salvaged from the hotel corridors of a boutique and sleek city hotel in Plzeň, the Retro Czech lights below, represent years of tradition passed from generation to generation. Czech glass is easily recognised by its striking cut-glass textures and moulded patterns and the effect is palpable. When brought to modern-day interiors, what's established is an eclectic aesthetic that nods towards 60s and 70s retro nostalgia. As well as bedrooms, consider adding retro moulded glass lights, like these, to smaller spaces like snugs, cosy lounge areas, or even corridors with low ceilings; each one brings bright illumination and creates visual impact without demanding too much space.

The Lounge, Lobby and Suite
A retreat wouldn't be a retreat without a space to sit back, relax and watch the world go by. Hotel lounges, lobbies and bars can be brought to life with lighting choices that add abstract shape and depth, like the Vintage Czech hotel pendants, below left. These were originally manufactured in former Czechoslovakia and later salvaged by the skinflint team from a hotel in Prague. They're typical of 1950s Czech design, with an original moulded glass shade and polished brass gallery that add an authentic sense of accumulation and of course a mid-century glow.
Lounges and lobbies need centrepieces too. And rodded pendants like these, above right, can create a focal point, bringing the room together and by leading the eye down. Originally manufactured in former Czechoslovakia, these 1970s opal pendants work perfectly in interiors that boast high ceilings, helping to illuminate large spaces with a soft and even glow. Be sure to use dimmable lamps to easily transform the room from day to night.
The Modern Spa
Next, to our spa appointment… A space synonymous with comfort and relaxation, lighting again plays an important role in setting the mood. Design commentators have noted a shift away from the formal, minimalist spas of old that once relied heavily on plush and bling materials. Instead, today's modern spas have 'heart and soul', incorporating raw and natural materials alongside vintage furniture and lighting to offer a more authentic, unique and inspiring sense of place.
Originally salvaged from a hotel lobby in Prague, the Retro spotted pendants, above left, tick all of the boxes. Nodding to their Bohemian glassmaking heritage, the original spotted glass-globes cast a soft yet captivating pattern that is perfect in spa environments. Lighting is also a great way of creating 'relax zones' and nooks that invite you to stop, sit back and rewind, as seen with these Vintage Czech pendant lights, above right. The opaline glass shade provides a soft, even and ambient glow when illuminated. Both lights can also add impact in rows above bars, and in hotel lounges, lobbies, bedrooms and restaurants.
Stairway To Heaven
Ever noticed that in design-led hotels, even the most transitional of areas such as stairways and corridors are heavenly places worthy of retreating to and hanging out? Such spaces aren't simply an after-thought in the design process, but are instead considered stylish and sometimes even Instagrammable in their own right. In dark circulation areas, statement vintage lights such as these Salvaged Eastern Bloc pendants, above, not only work to light the way, but bring texture, interest and a focal point, elevating these often overlooked spaces. Statement lights can also act as a source of inspiration, be a surprise conversation starter, or evoke a momentary sense of escapism; particularly when hung in curved stairways and atriums when the light's original detailing such as worn patinas and manufacturer's marks are unexpectedly revealed at eye-level, and at 360 degrees, when walking between floors.
Dreamy Dressing Rooms
Finally, please excuse us whilst we close the door and slip into something more comfortable… Walk-in wardrobes and separate dressing rooms in hotels offer a true sense of luxury. Originally designed as a space to withdraw to and take your time in, lighting plays a key role in setting the tone, ambience and functionality of any fancy 'boudoir'. These 1970s square cut glass ceiling lights, below right, add a touch of glitz and glamour, with their original prismatic glass shades designed to spread lighting equally around the room (not just at the dressing table when you need it). This is also the ideal place to create a 'vignette' - a small group of decorative treasures - which can make a unique statement in a room, whilst the pendant, suspended at a lower-than-normal height, both helps to frame and light the scene. Vintage pieces with a story to tell work well here, and these particular lights are no exception. Originally salvaged from a railway departure lounge in Prague, they recall a sense of romanticism and nostalgia of the past.
Elsewhere, angled shades such as these 1950s enamelled pendants are ideal for illuminating artwork on walls, as seen here above left, or shelving in walk-in wardrobes, lobbies or lounges. Originally salvaged from an electrical substation in Lancashire and manufactured by British lighting power-house REVO, these particular lights may be industrial in nature, but thanks to their hue, continue the calm and muted feel of the interior. Again, think about using dimmable lamps so that you can easily switch between brighter light when getting ready to go out, and a more ambient light for the end of the day. Now, to bed...
Explore The Retreat hotel lighting collection