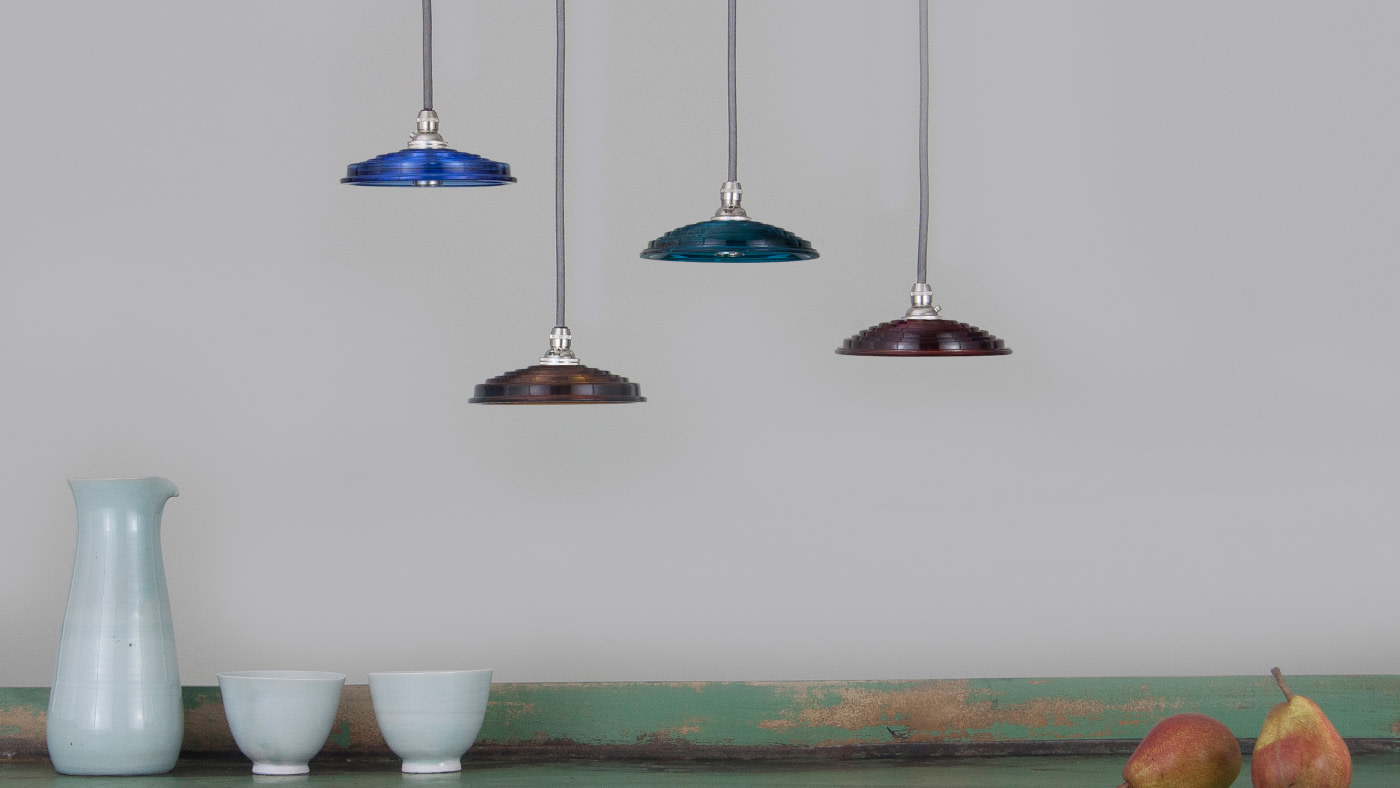 Above image: Hungarian railway light lenses in turquoise, red, blue and amber.
Give reclaimed this Christmas and beyond with unique original vintage giftable lights that eco-conscious individuals will love. From vintage table lamps small enough to hide under the tree, to authentic industrial pendant lights and show-stopping floor lights with real heritage and character, you'll find something for every style and budget.

Don't forget to order by midnight by Wednesday 18 December for delivery in time for Christmas.
Industrial pendant lights
At skinflint we're all about making considered purchases rather than adding to the scrap heap. That's why we scour locations across the globe to salvage beautiful lights with a story to tell. Our Russian Army field lights (below) were salvaged from a decommissioned stock in Lithuania, and our vintage enamelled pendants by REVO salvaged from an electrical substation in the Northwest of the UK. Both from the 1950s, these lights feature the original manufacturer detailing and cast marks, with their diminutive size making them ideal for even the smallest of interior spaces.
Vintage floor lights


A real stand-out piece for theatre goers or anyone who appreciates products with heritage and longevity. This feature floor-standing lamp has a reclaimed 'Strand Electric Patt 23' British theatre light atop. Lights identical to this one, which were salvaged from a London theatre, would have once been used to illuminate the stages of the Royal Festival Hall and the Royal Opera House. Explore our collection of vintage floor lights for more ideas.
Vintage table and desk lights
From anglepoise-style lights that once provided task lighting for busy offices, to vintage machinist lights that once illuminated the work benches and lathes of European factories, and even converted medical heat lamps - each piece in our vintage and industrial desk lamp collection has a history, and a future too. Lights like these make for ideal feature task lighting on a desk, bedside or console table, whilst adding vintage texture to interiors.
Explore more in our collection of vintage giftable lights.
*Please note, we'll be closing the skinflint studio and workshop for our Christmas break from Saturday 21 December and reopening again on Monday 6 January.*